More Able
Bright Sparks
The nzmaths website has been rebuilt and any bookmarks you might have to the content of the site will no longer work. You will need to navigate from the home page to reestablish your bookmarks. The old version of the website will be available for a limited time at http://www2.nzmaths.co.nz/ Adding a 2 after the www in the url for your link will allow you to find the page you are looking for. Other things to try:
Numeracy - Developing Excel Formula; KS3 MA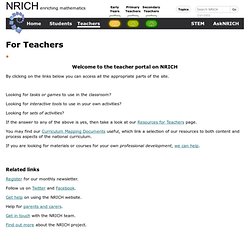 NRICH: Mathematics Enrichment - NC Levels 3/4 and up MA
Welcome to the teacher portal on NRICH By clicking on the links below you can access all the appropriate parts of the site. Looking for tasks or games to use in the classroom? Looking for interactive tools to use in your own activities? Looking for sets of activities ? If the answer to any of the above is yes, then take a look at our Resources for Teachers page.
Find the Difference;
Cops and Robbers MA
Can you help the police locate the robber? The robber is hiding in a modern city, where the roads are all at right angles and equally spaced. Imagine the grid lines represent roads.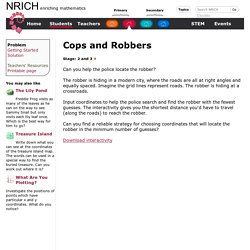 Stop the Clock MA
nrich.maths.org MA
Roch CP School's Mathematics Trail KS2 MA
Schools - Mathsfile MA
Problem Solving MA