Gifts to Make
Bleach Pen Tshirts-STASH. How to make a bow brooch. Currently, I have an obsession with bows.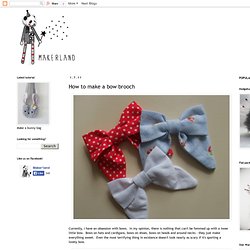 In my opinion, there is nothing that can't be femmed up with a twee little bow. Bows on hats and cardigans, bows on shoes, bows on heads and around necks - they just make everything sweet. Even the most terrifying thing in existence doesn't look nearly as scary if it's sporting a lovely bow. HO HO HO HANDSCRUB. So...giftie season is here!...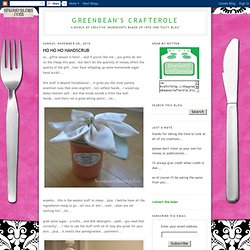 And if you're like me...you gotta do 'em on the cheap this year...but don't let the quantity of money affect the quality of the gift...how 'bout whipping up some homemade sugar hand scrub?... This stuff is beyond fantabulous!... It gives you the most yummy smelliest (was that even english?... Lol) softest hands...i would say baby's bottom soft...but that kinda sounds a little like butt hands...and that's not a good selling point!... SUPER TWEET COASTERS. So...when in lowes...i came across the most fantastic 4" x 4" glass tiles and knew instantly i wanted to do coasters!...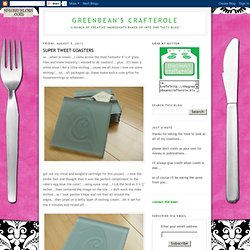 Plus...it's been a while since i did a little etching...cause we all know i love me some etching!... Lol...all packaged up, these make such a cute giftie for housewarmings or whatever!... Got out my cricut and songbird cartridge for this project...i love the birdie font and thought that it was the perfect compliment to the robin's egg blue tile color!... Tutorial: Wire-Wrapped Tree of Life Ornament. NZ Ecochick: Christmas ideas. I love Christmas time!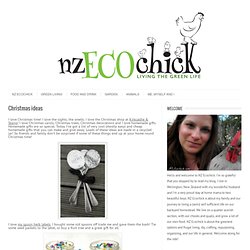 I love the sights, the smells. I love the Christmas shop at Kirkcaldie & Stains! I love Christmas carols, Christmas trees, Christmas decorations and I love homemade gifts. Homemade gifts are so special. Tutorial: Elegant Earrings! These turned out so well!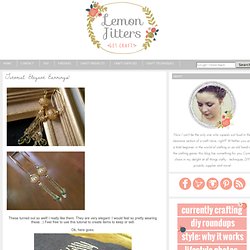 I really like them. They are very elegant. I would feel so pretty wearing these. :) Feel free to use this tutorial to create items to keep or sell. How to-sday . antique spoon plant markers. I'm clearly on a major metal stamping kick right now, but I've still got projects, so why stop now?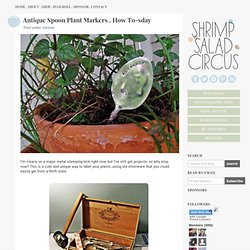 This is a cute and unique way to label your plants, using old silverware that you could easily get from a thrift store. Materials: Antique spoon (Modern stainless versions don't stamp well at all.)Metal stamps (Mine are from Evie's Tool Emporium on Etsy!) Nail file, steel wool, or fine grit sandpaperPermanent markerHeavy rubber mallet. How To-sday - I love you because... Message in a Bottle Key Ring. Etceteras: sugar scrub and pretty packaging. I know there have been many wonderful sugar scrub posts and tutorials in the blog world but when I found these little bottles I just had to make some of my own.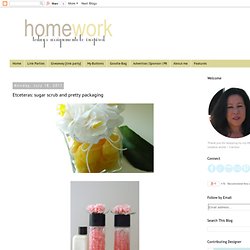 The little travel-sized bottles are from my local drugstore. I found them on sale - I think they were two for $1.00. There's a variety of sugar scrub recipes available online – brown sugar, lemon, peppermint and more. I used a recipe from The Happy Housewife because I wanted pink scrub. Easy Hooded Bath Towel. I've made each of my kids their own bath towel hoodie when they're born, starting with my son 6 years ago.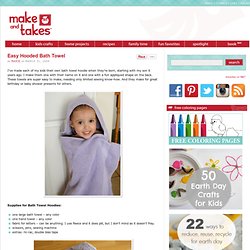 I make them one with their name on it and one with a fun appliqued shape on the back. These towels are super easy to make, needing only limited sewing know-how. And they make for great birthday or baby shower presents for others. Scrabble Tile Pendant Tutorial. I'm excited to share this tutorial for Scrabble Tile Pendants from Mark and Stefani at HomeStudio.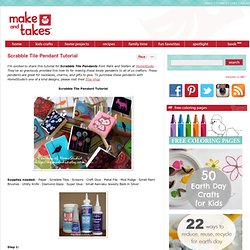 They've so graciously provided this how-to for making these lovely pendants to all of us crafters. These pendants are great for necklaces, charms, and gifts to give. To purchase these pendants with HomeStudio's one of a kind designs, please visit their Etsy shop. Scrabble Tile Pendant Tutorial. Birds Nest Jewelry Tutorial « Quiver Full of Blessings. With Christmas just around the corner, these would make a thoughtful handmade gift.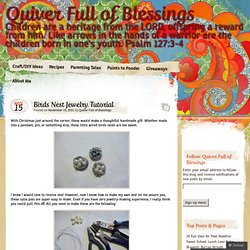 Whether made into a pendant, pin, or something else, these little wired birds nests are too sweet. I know I would love to receive one! Boo Boo Bear. What to do when someone has a little bump that needs some TLC and you have no frozen peas in the freezer....make a Boo Boo Bear! He's filled with rice and just waiting in the freezer for the next boo boo. I used a bear applique pattern that I had and marked it on the right side of the fabric.
Then I added the paws and nose before I sewed him together. Turn him over and mark the pattern on the wrong side of the fabric and sew the two pieces together on your lines. 18 Cheap Creative Christmas Gifts. [ Close Privacy Policy ] Privacy Policy / Your California Privacy Rights Revised and posted as of March 4, 2013 Prime Publishing, LLC ("Company," "we" or "us") reserves the right to revise this Privacy Policy at any time simply by posting such revision, so we encourage you to review it periodically. In order to track any changes to this Privacy Policy, we will include a historical reference at the top of this document. This Privacy Policy will tell you, among other things: Felt Flower Rosette Headbands {& BFFs}
My daughter has a friend who is truly her BFF. And her mom just so happens to be my BFF! How neat is that?  Five Fun Homemade Gift Ideas for Kids. That started this week, I thought I'd share five homemade gifts that I've made myself here at Come Together Kids. I made these flower pillows for my girls in the Spring.
---