Social
The 3 Facebook Settings Every User Should Check Now - NYTimes.co. Top 10 Best Facebook Fan Page Applications. Fan Pages on Facebook should be central to your social media marketing campaigns.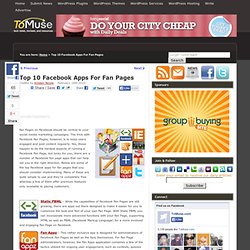 The trick with Facebook Fan Pages, however, is to keep users engaged and post content regularly. Yes, those happen to be the hardest aspects of running a Facebook Fan Page, but lucky for you, there are a number of Facebook fan page apps that can help set you in the right direction. Facebook Applications – The Best Ones To Use :: How to make blog. Miller Marklets. Josh Miller's Bookmarklets (for Mafia Wars, FarmVille, FarmTown, Mobsters, Vampire Wars, Castle Age, etc on Facebook) Looking for a quick way to automatically confirm all new friend requests and accept all your Facebook game/application gifts?
Check out JGrabAllGifts! Have my scripts saved you time? Want to help me out? Tell all of your friends about Miller Marklets!
---