Synthesis Resources
Civic-Minded Graduate: A North Star (Assessment Tools)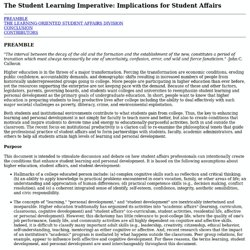 ACPA's Student Learning Imperative
"The interval between the decay of the old and the formation and the establishment of the new, constitutes a period of transition which must always necessarily be one of uncertainty, confusion, error, and wild and fierce fanaticism."
CAS
CAS » Standards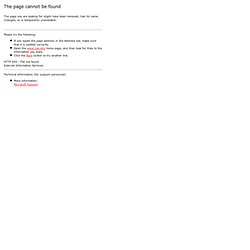 Download the CAS General Standards 2012 . Part 1. MISSION
CAS » CAS General Standards
Pell Institute
Welcome | Opened Practices
Perform a Task Analysis
Instructional Design Knowledge Base
Permission from author required to link to the IDKB.
Techniques & Methods for Writing Objectives & Performance Outcomes
Techniques and Methods of Performance Objectives
Copy / Paste by Peter Pappas » Dedicated to relinquishing responsibility for learning to the students
ABOUT THIS SITE The purpose of this site is to provide guidance to educators on using structured reflection to enhance the learning from service experiences.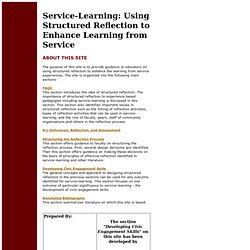 Reflection
IAR: Assess students > Portfolio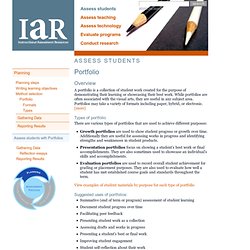 Overview
Assessment Handbook
Assessment
How to Write Learning Outcomes
Outcomes Assessment - The University of Iowa
The Iowa Outcomes Assessment web site is designed to help faculty and departments demonstrate what students are learning in their programs, both to help maintain program excellence and to prioritize areas for program development.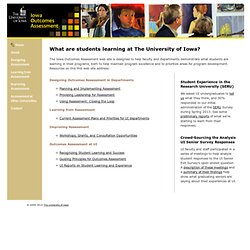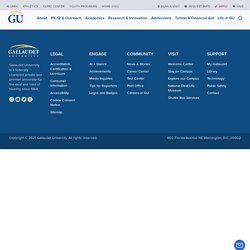 What is Portfolios for Student Growth?
Portfolios for Student Growth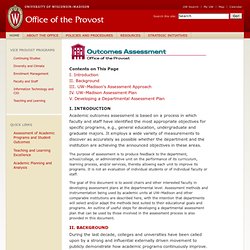 Outcomes Assessment > manual1
Contents on This Page I. Introduction
Managing a Program of Outcomes Assessment
Community Works Institute