Synthesis Resources
Civic-Minded Graduate: A North Star (Assessment Tools)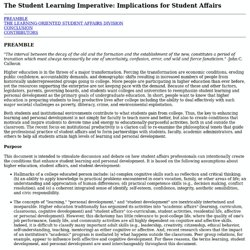 ACPA's Student Learning Imperative
"The interval between the decay of the old and the formation and the establishment of the new, constitutes a period of transition which must always necessarily be one of uncertainty, confusion, error, and wild and fierce fanaticism."
CAS
CAS » Standards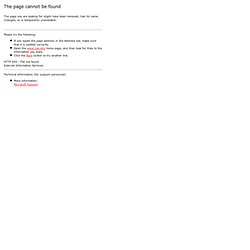 Download the CAS General Standards 2012. Part 1. MISSION
CAS » CAS General Standards
Pell Institute
Welcome | Opened Practices
Perform a Task Analysis
Instructional Design Knowledge Base
Instructional design is an ill-structured problem-solving process that is defined by the context of the problem, the knowledge and skills of the instructional designer, and the quality of available resources. The purpose of the Instructional Design Knowledge Base (IDKB) is threefold: To support faculty teaching courses in Instructional Design; To support students learning Instructional Design; To support practitioners in the field of Instructional Design. The IDKB has two components. Click on one of the images to the right or on the links below to enter the area that best fits your purpose.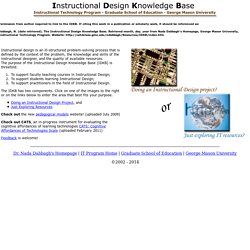 Techniques & Methods for Writing Objectives & Performance Outcomes Gagne/ Briggs format | ABCD (IDI) format | Table of formats The purpose of instructional objectives and performance outcomes is to define the type of learning that will occur at the conclusion of instruction and how learning will be assessed. Both objectives and performance outcomes should be written as precisely as possible in order to best determine whether they have been achieved. In order to write accurate instructional objectives, a designer should be cognizant of the different learning domains as well as different formats for writing them.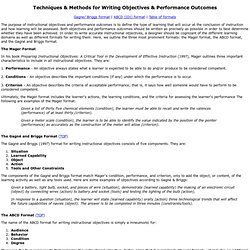 Techniques and Methods of Performance Objectives
Copy / Paste by Peter Pappas » Dedicated to relinquishing responsibility for learning to the students
ABOUT THIS SITE The purpose of this site is to provide guidance to educators on using structured reflection to enhance the learning from service experiences.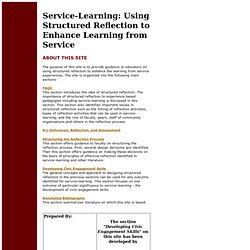 Reflection
IAR: Assess students > Portfolio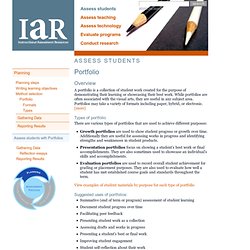 Overview
Assessment Handbook
Outcomes Assessment - The University of Iowa
The Iowa Outcomes Assessment web site is designed to help faculty and departments demonstrate what students are learning in their programs, both to help maintain program excellence and to prioritize areas for program development.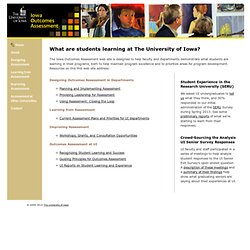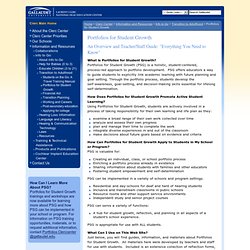 What is Portfolios for Student Growth?Portfolios for Student Growth (PSG) is a holistic, student-centered, process-led approach to portfolio development. PSG offers educators a way to guide students to explicitly link academic learning with future planning and goal setting.
Portfolios for Student Growth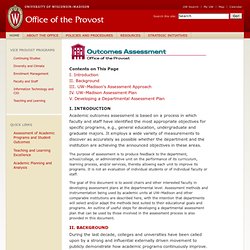 Outcomes Assessment > manual1
Contents on This Page I. Introduction
Managing a Program of Outcomes Assessment
Community Works Institute