Wikileaks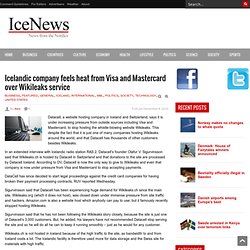 Icelandic company feels heat from Visa and Mastercard over Wikileaks service
Datacell, a website hosting company in Iceland and Switzerland, says it is under increasing pressure from outside sources including Visa and Mastercard, to stop hosting the whistle-blowing website Wikileaks. This despite the fact that it is just one of many companies hosting Wikileaks around the world, and that Datacell has thousands of other customers besides Wikileaks.
Julian Assange, fondateur de l'explosif WikiLeaks , vient de passer sa première nuit en prison. Il y restera jusqu'à sa prochaine comparution, le 14 décembre. Soupçonné de viol par la Suède, qui demande son extradition, Assange s'était rendu le 7 décembre à la police britannique et avait comparu le jour même devant un tribunal d'Instance de Webminster, qui avait refusé sa demande de liberté conditionnelle. Impatient de pouvoir « défendre son honneur » devant les tribunaux, l'Australien de 34 ans a d'ores et déjà mis sur pied un « plan média » dans lequel il dénonce l'acharnement des autorités australiennes et américaines à son encontre. Il a ainsi transmis au journal The Australian un texte intitulé « Ne Tuez pas le message », qui débute de cette manière : «En 1958, le jeune Rupert Murdoch, alors directeur des Nouvelles d'Adelaïde, a écrit: « dans la course entre le secret et la vérité, il semble inévitable que la vérité gagne toujours »».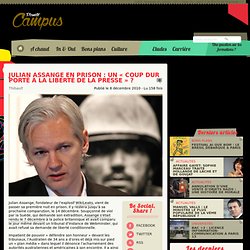 Julian Assange en prison : un « coup dur porté à la liberté de la presse » ?
Pour venger WikiLeaks, des pirates attaquent Mastercard
OVH précise ne pas être ni l'éditeur, ni l'hébergeur de Wikileaks, mais juste un prestataire technique indirect. La justice ne lui a pas demandé de cesser cette prestation.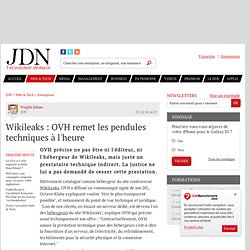 Wikileaks : OVH remet les pendules techniques à l'heure - Journal du Net Solutions
"The first serious infowar is now engaged. The field of battle is WikiLeaks. You are the troops," wrote John Perry Barlow on Twitter . The censorship vs. free speech battle is escalating. This week has seen Amazon , Tableau , EveryDNS and PayPal dropping WikiLeaks services in quick succession, DDoS attacks that caused the site to go offline multiple times, and mounting political pressure from the US ( 2 ), Australian and French governments. The US government went so far as to warn Switzerland against granting Julian Assange political asylum, reports 20 Minuten .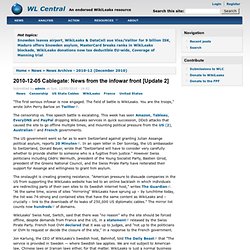 2010-12-05: Cablegate: News from the infowar front [Update 1]
Universities Warn Students: Reading/Discussing Wikileaks Could Cost You a Future Government Job
The Office of Career Services at Columbia University's School of International and Political Affairs emailed students this week to say that a SIPA alum working at the State Department wanted them to know that posting or discussing Wikileaks documents on social media sites like Facebook and Twitter could jeopardize their chances of getting work with the federal government in the future. Going further, an assistant dean at Boston University's law school contacted students there to let them know that even reading Wikileaks cables could "be seen as a violation of Executive Order 13526," and thus imperil federal employment. After warning them — in all caps — not to post links or comments on the documents online, she helpfully reminded them that "polygraphs are conducted for the highest levels of security clearance."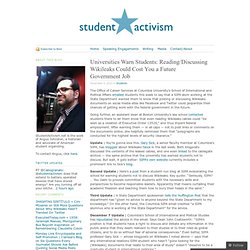 Wikileaks chez OVH : des risques pour les autres sites hébergés ?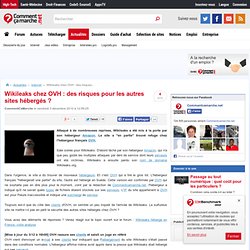 Attaqué à de nombreuses reprises, Wikileaks a été mis à la porte par son hébergeur Amazon . Le site a "en partie" trouvé refuge chez l'hébergeur français OVH . Sale soirée pour Wikileaks. D'abord lâché par son hébergeur Amazon , qui n'a que peu goûté les multiples attaques par déni de service dont leurs serveurs ont été victimes, Wikileaks a ensuite perdu son nom de domaine Wikileaks.org.
Wikileaks chez OVH : des risques pour les autres sites hébergés ?
Affaire Wikileaks : OVH demande à la justice de se prononcer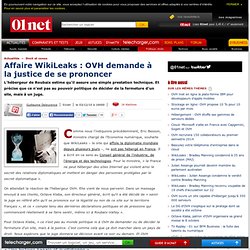 L'hébergeur de Roubaix estime qu'il assure une simple prestation technique. Et précise que ce n'est pas au pouvoir politique de décider de la fermeture d'un site, mais à un juge. 01net le 03/12/10 à 16h00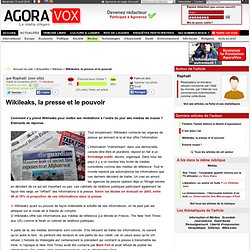 Comment s'y prend Wikileaks pour mettre ses révélations à l'ordre du jour des médias de masse ? Eléments de réponse. Tout simplement, Wikileaks contacte les organes de presse qui donnent le la et leur offre l'information.
Wikileaks, la presse et le pouvoir
Pourquoi "Le Monde" publie les documents WikiLeaks