Photographie
Photojournalist, Paris - Jérémie Jung
Photojournalist, Paris - Jérémie Jung
Photojournalist, Paris - Jérémie Jung
Le Courrier de Russie : Concours Photo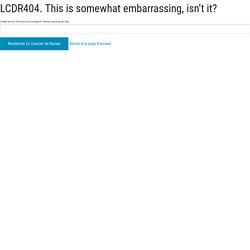 Le Courrier de Russie est heureux d'annoncer les résultats du concours photo "Votre Russie en images" Le premier prix est décerné Jana Zavodnikova pour sa photo intitulée Visite de la fabrique de Matrioshka à Cemënov, octobre 2011 . Celle-ci remporte un livre de photographies de James Hill, En Russies. Le deuxième prix va à Lucie Le Floch, pour sa photo intitulée Les copines de la dernière sonnerie, Saratov, mai 2011 . Elle remporte 2 places pour deux expositions à la Maison de la Photographie à Moscou : Stanley Kubrick : l'Histoire en photographies 1945-1950 et " Pigozzi, pas si prêt !
An image posted on Kweku Adoboli's Facebook page, which the Guardian has been unable to independently verify. Pressure to accelerate reform of the banking industry is mounting as a star trader at the UBS investment bank remained in police custody in London amid allegations that he was at the heart of a rogue trading incident that has cost the Swiss bank about $2bn (£1.2bn). Kweku Adoboli , 31, faced a night of questioning by officers from City of London police after being arrested at 3.30am when his managers became suspicious about his trading activities and alerted police and financial regulators .
Banks under new pressure as 'rogue trader' loses $2bn | Business
If you paid attention during your French lessons at school you'll enjoy this | duckrabbit - we produce photofilms
Prague Photo
Signatures, maison de photographes : Accueil
Galeries virutelles - Fait & Cause
burn is an evolving journal for emerging photographers. burn was launched as an online magazine/journal on December 21, 2008, and is curated by Magnum photographer David Alan Harvey. We publish new stories or singles at least two times per week. The burn team is: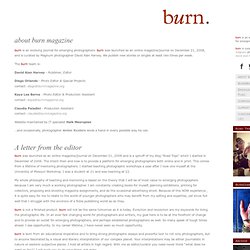 About burn magazine
Signatures, maison de photographes : Books Photographes - Didier Goupy
Joseph Melin, photographe indépendant spécialisé reportage portrait | Joseph Melin
Le numérique révise l'histoire, ou André Zucca à Disneyland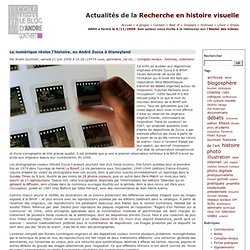 J'ai enfin pu accéder aux diapositives originales d'André Zucca à la BHVP. J'avais demandé cet accès dès l'invitation qui m'avait été faite par l'association Paris Bibliothèques d'animer les débats organisés autour de l'exposition "Les/Des Parisiens sous l'occupation". Cette faculté m'a été refusée jusqu'à ce que le nom du nouveau directeur de la BHVP soit connu. Tous les spécialistes que j'ai croisé depuis deux mois m'ont affirmé n'avoir pu observer les originaux. Virginie Chardin, commissaire de l'exposition "Paris en couleurs" en 2007, qui proposait quarante vues d'après les diapositives de Zucca, a par exemple effectué ses choix à partir de la vision de ce qu'elle nomme les «bruts de scans».
Bieke Depoorter Photography
Sarah Caron Photographe, le site officiel
Denis Darzacq, index
Josef Koudelka
Dolorès Marat
Documentary photography digital magazine
Angela Strassheim
Rachel Saddedine, Photographe
Home : Jessica Dimmock
Bruce Davidson
Un article de Wikipédia, l'encyclopédie libre. Pour les articles homonymes, voir Davidson . Bruce Davidson est un photographe américain, membre de l'agence Magnum Photos . Biographie [ modifier ]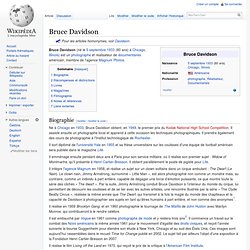 Bruce Davidson
PORTRAIT PHOTOGRAPHER GREGORY HEISLER
Jeff Wall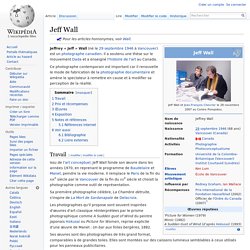 Un article de Wikipédia, l'encyclopédie libre. Pour les articles homonymes, voir Wall . Jeffrey « Jeff » Wall (né le 29 septembre 1946 à Vancouver ) est un photographe canadien . Il a soutenu une thèse sur le mouvement Dada et a enseigné l' histoire de l'art au Canada. Ce photographe contemporain est important car il renouvelle le mode de fabrication de la photographie documentaire et amène le spectateur à remettre en cause et à modifier sa perception de la réalité. Travail [ modifier ]
/ Newsletter / Mon panier / Créer un compte / Login / Contact / // Accueil / L'agence / Photographes / Thema / Publications / Labo / Myop éditions / Archives / / Stéphane REMAEL // Book / Séries / Publications / Bio & Contact // Portraits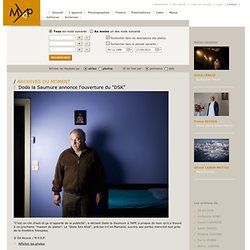 Archives - Stéphane REMAEL
Hugues de Wurstemberger
Rip Hopkins - Photography
Joakim Eskildsen
Yan Morvan
Krass Clement - Photographer
The Periodic Table of Photography | PhotoWeeklyOnline INC.