PS3
Assassin's Creed
Ratchet & Clank. Killzone 2. Gameplay[edit] Campaign[edit] The game is presented almost entirely from a first person perspective, aside from vehicular combat.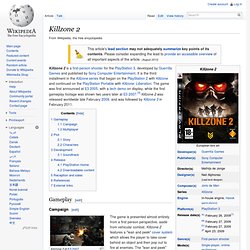 Killzone 3. Is a 2011 first-person shooter for the PlayStation 3 , developed by Guerrilla Games and published by Sony Computer Entertainment .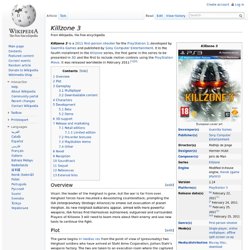 It is the fourth installment in the series, the first game in the series to be presented in 3D and the first to include motion controls using the PlayStation Move . It was released worldwide in February 2011. [ 1 ] [ 2 ] [ edit ] Overview Visari, the leader of the Helghast is gone, but the war is far from over. Portal (video game) Portal was acclaimed as one of the most original games of 2007, despite being considered short in length.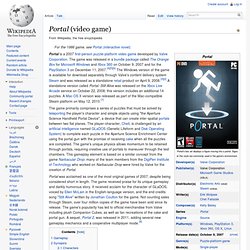 The game received praise for its unique gameplay and darkly humorous story. It received acclaim for the character of GLaDOS, voiced by Ellen McLain in the English-language version, and the end credits song "Still Alive" written by Jonathan Coulton for the game. Not counting sales through Steam, over four million copies of the game have been sold since its release. The game's popularity has led to official merchandise from Valve including plush Companion Cubes, as well as fan recreations of the cake and portal gun. A sequel, Portal 2, was released in 2011, adding several new gameplay mechanics and a cooperative multiplayer mode.[8] Portal 2. Although some reviewers initially expressed concerns about the difficulty of expanding Portal into a full sequel, Portal 2 received universal acclaim upon its release, with the game's writing, pacing, and dark humor being highlighted as stand-out elements.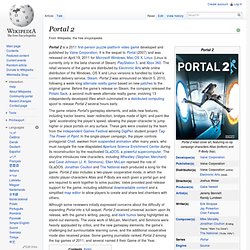 The voice work of McLain, Merchant, and Simmons were heavily applauded by critics, and the new gameplay elements, the game's challenging but surmountable learning curve, and the additional cooperative mode also received praise. Some gaming journalists ranked Portal 2 among the top games of 2011, and several named it their Game of the Year. Gameplay[edit]
---