Computers
Laurie McCanna's complete list of Photoshop tutorials. Verio Offerings Create the site you want with Verio hosting plan options.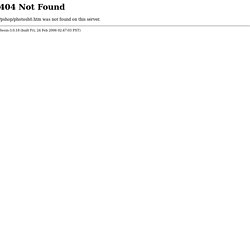 Powerful VPS service that allow you to customize your server configuration and choose the applications that match your needs. Verio is your strategic partner for top-tier hosting for complex websites and dedicated hosting. Use Verio's WHOIS database to search for and register the domain that fits your business best or get contact info for a domain that is already taken. Real-time Collaborative World Building | HeroEngine. The HeroBlade tool boasts a robust assortment of powerful and intuitive world building tools.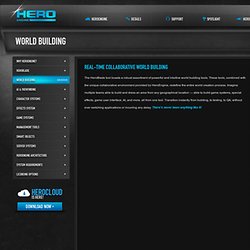 These tools, combined with the unique collaborative environment provided by HeroEngine, redefine the entire world creation process. Imagine multiple teams able to build and dress an area from any geographical location — able to build game systems, special effects, game user interface, AI, and more, all from one tool. Transition instantly from building, to testing, to QA, without ever switching applications or incurring any delay. There's never been anything like it! Digital Photography Tutorials. Learn how to take and edit digital photographs using visual tutorials that emphasize concept over procedure, independent of specific digital camera or lens.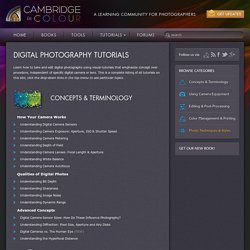 This is a complete listing of all tutorials on this site; click the drop-down links in the top menu to see particular topics. Photography is going through an exciting transition period as many film photographers are beginning to explore the new capabilities of digital cameras. While the fundamentals have remained similar, other aspects are markedly different.
This is a great time to get involved with digital photography. These tutorials are rarely influenced by changes in image editing software and camera equipment — due to their unique concept-based approach. How to be a Programmer: A Short, Comprehensive, and Personal Summary. Debugging is the cornerstone of being a programmer.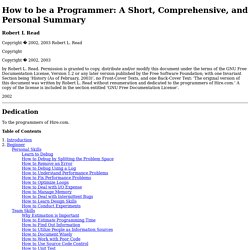 The first meaning of the verb to debug is to remove errors, but the meaning that really matters is to see into the execution of a program by examining it. A programmer that cannot debug effectively is blind. In The Games Of Madness. How To Become A Hacker. Copyright © 2001 Eric S.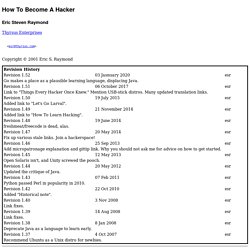 Raymond As editor of the Jargon File and author of a few other well-known documents of similar nature, I often get email requests from enthusiastic network newbies asking (in effect) "how can I learn to be a wizardly hacker? ". Back in 1996 I noticed that there didn't seem to be any other FAQs or web documents that addressed this vital question, so I started this one. A lot of hackers now consider it definitive, and I suppose that means it is.
---