Twitter
50 Brilliant Apps to Enhance Your Twitter Experience. Without a doubt, Twitter is one of the best innovations of the century.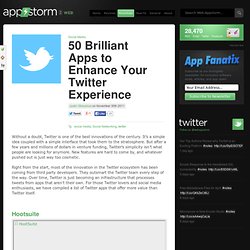 It's a simple idea coupled with a simple interface that took them to the stratosphere. But after a few years and millions of dollars in venture funding, Twitter's simplicity isn't what people are looking for anymore. KIDS (kids_ed) Top 100 Tools for the Twittering Teacher | Best Colleges Online. Posted on Thursday April 2, 2009 by Staff Writers By Donna Scott Twitter has become a powerful tool for community organizers, marketers, and others who want to share and receive information in a fast, friendly environment.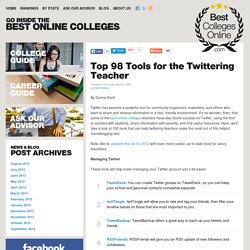 It's no wonder, then, that some of the best online colleges teachers have also found success on Twitter, using the tool to connect with students, share information with parents, and find useful resources. Here, we'll take a look at 100 tools that can help twittering teachers make the most out of this helpful microblogging tool. Note: We've updated this list for 2012 with even more useful, up-to-date tools for savvy educators.
---