Plugin
Web Worker Daily » Archive Firebug 1.2 - Good News for Web Devs. If you're a Web developer, you likely already know about Firebug – the amazing web development add-in for Firefox.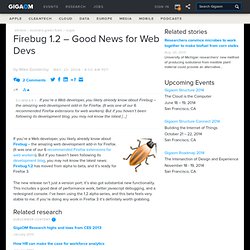 (It was one of our 6 recommended Firefox extensions for web workers). But if you haven't been following its development blog, you may not know the latest news: Firebug 1.2 has moved from alpha to beta, and it's ready for Firefox 3. Metadata as a 'filing system'. 10 ways to get the most out of Quick Look - The Unofficial Apple. When Steve first demonstrated Quick Look, I though it looked gimmicky.
Interesting, for sure, but nothing I'd use regularly. Much like Star Wars Episode I: Fun when viewed for the first time, but I'll never watch it again. Three months later, Quick Look is my favorite feature of Leopard. It's convenient, useful and very fast. ZipQuickLook. Folder List Quick Look plug-in.
---