Lifehack 2
Real Life Example on Personal Finance
Flexo, an anonymous blogger at Consumerism Commentary, has an interesting piece on how to be a CFO of his life. He treats and puts his finance in term of running a business. Not only running a business – he puts it as a publicly traded business by publishing his financial reports online – all to make him accountable on his expenses and financial management. Here are couple of interesting links from his blog: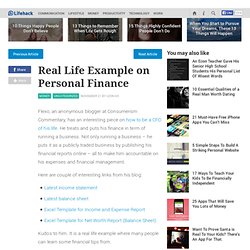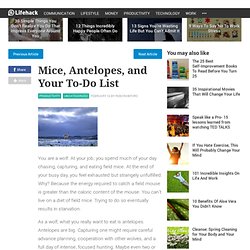 Mice, Antelopes, and Your To-Do List
You are a wolf. At your job, you spend much of your day chasing, capturing, and eating field mice. At the end of your busy day, you feel exhausted but strangely unfulfilled. Why? Because the energy required to catch a field mouse is greater than the caloric content of the mouse.
Computer Vision Syndrome, or computer eyestrain, can be caused by a variety of things. Most commonly it is a result of bad lighting and/or long hours. Since I'm getting a strain right now, how about we explore how was can prevent, or ease, eyestrain. This [very well organized] list from The Lighting Blog provides 22 ideas to keep your eyes focused and reading right. The first few are good to do even if your eyes are fine but want to keep your productivity up. Try taking a break.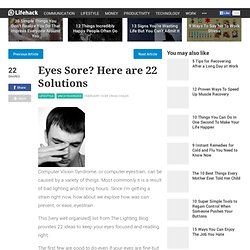 Eyes Sore? Here are 22 Solutions
How to read fast
This is a great idea. I bought a few hanging cable management add-ons for my Ikea desk, but they were too small for all my power supplies and stuff. My big concern (one that was raised before) is interference from other cables to things like USB or Firewire. I wonder if there's a way to get low-level stats like packet loss or noise levels from USB & FW stacks (in my case, in OSX).
Rain Gutters as Cable Management Tools - Cable Management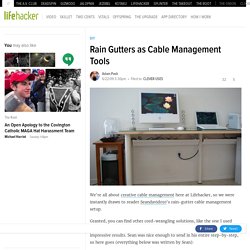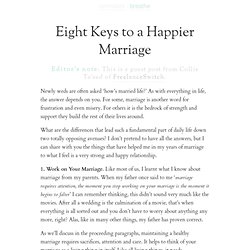 Editor's note: This is a guest post from Collis Ta'eed of FreelanceSwitch. Newly weds are often asked 'how's married life?' As with everything in life, the answer depends on you.
Eight Keys to a Happier Marriage | zen habits
Summer Express: 101 Simple Meals Ready in 10 Minutes or Less - N
How to Make Sure That Nothing Gets Between You and Your Good Hab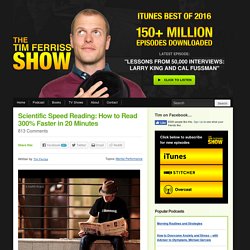 (Photo: Dustin Diaz) How much more could you get done if you completed all of your required reading in 1/3 or 1/5 the time? Increasing reading speed is a process of controlling fine motor movement—period. This post is a condensed overview of principles I taught to undergraduates at Princeton University in 1998 at a seminar called the "PX Project". The below was written several years ago, so it's worded like Ivy-Leaguer pompous-ass prose, but the results are substantial. In fact, while on an airplane in China two weeks ago, I helped Glenn McElhose increase his reading speed 34% in less than 5 minutes.
This is the third part of a 12-part series I am posting through the end of December and into January 2009, examining the current understanding of productivity and where the concept might be heading in the future. I invite Lifehack's readers to be an active part of this conversation, both in comments here and on your own sites (if you have one). I will also soon announce some other venues where I and several others will be discussing some of the issues raised in this series.
Toward a New Vision of Productivity, Part 3: The Trouble with GT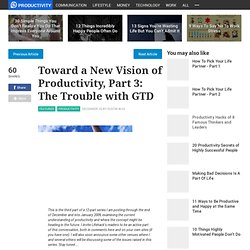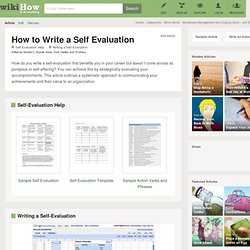 Edit Article Self-Evaluation HelpWriting a Self-Evaluation Edited by Sondra C, Krystle, Kene, Chris Hadley and 19 others How do you write a self-evaluation that benefits you in your career but doesn't come across as pompous or self-effacing?
How to Write a Self Evaluation
Martin Seligman on positive psychology
Many people are really bad at estimating how much time a task will take. Perhaps you estimate you'll need about an hour, and it really takes you 3-4 hours to finish. Or maybe you allocate 30 minutes for a task, and you're done in 5 minutes.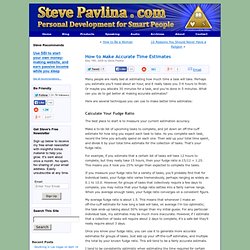 How to Make Accurate Time Estimates
How to Sleep in Airports - Tips and Advice - The Guide to Sleepi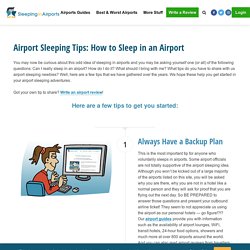 So you've come to realize this site is not a complete joke and people DO actually sleep in the airport to save money on hotels or just to make sure they don't sleep in and miss their flight. You may now be curious about this odd idea of sleeping in airports and you may be asking yourself one (or all) of the following questions: Can I really sleep in an airport? How do I do it? What should I bring with me? What tips do you have to share with us airport sleeping newbies? Well, here are some ideas that will help you get started in your airport sleeping adventures.
Every Workday Needs a Game Plan
Almost everyone I know is working more time than they would like. That's why a book like The 4-Hour Work Week by Timothy Ferriss has been such a big bestseller. This is a great book, but the promise is a little over the top. I don't know of anyone, including Tim Ferriss, who really only works four hours.
From Where I Sit: How to Shave Ten Hours Off Your Work Week
Would You Blog Differently If You Had Money?
The Ultimate Guide to Freezing Food | Former Fat Guy Blog
This two-part article looks at the many ways to freeze food (including specifics for common food types), as well as a few suggestions for getting the most out of your freezer itself. It can be a wonderful piece of equipment. Chances are that when you buy a new refrigerator, the freezer just comes along for the ride. It's a part of the kitchen that most people don't spend much time thinking about. It can be, however, an extremely efficient tool for putting aside excess food for later use.
Interpreting Technology Hype When new technologies make bold promises, how do you discern the hype from what's commercially viable? And when will such claims pay off, if at all? Gartner Hype Cycles provide a graphic representation of the maturity and adoption of technologies and applications, and how they are potentially relevant to solving real business problems and exploiting new opportunities. Gartner Hype Cycle methodology gives you a view of how a technology or application will evolve over time, providing a sound source of insight to manage its deployment within the context of your specific business goals.
understanding hype cycles
NaNoWriMo (National Novel Writing Month) is almost upon us. On November 1st, brave souls everywhere will embark on a month long endeavor to write a story of at least 50,000 words. We've gathered 30+ tools to help those folks who want to try their hand at it.