Lifehack 2
Real Life Example on Personal Finance
Flexo, an anonymous blogger at Consumerism Commentary, has an interesting piece on how to be a CFO of his life.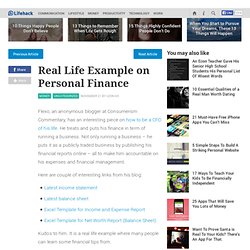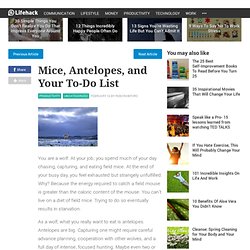 Mice, Antelopes, and Your To-Do List
You are a wolf.
Computer Vision Syndrome, or computer eyestrain, can be caused by a variety of things. Most commonly it is a result of bad lighting and/or long hours.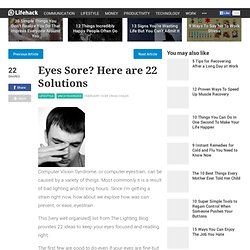 Eyes Sore? Here are 22 Solutions
How to read fast
SExpand
Rain Gutters as Cable Management Tools - Cable Management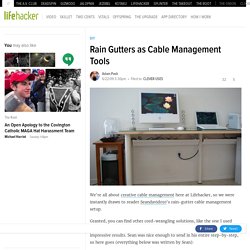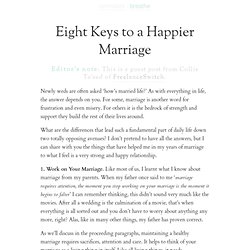 Editor's note: This is a guest post from Collis Ta'eed of FreelanceSwitch. Newly weds are often asked 'how's married life?' As with everything in life, the answer depends on you.
Eight Keys to a Happier Marriage | zen habits
Summer Express: 101 Simple Meals Ready in 10 Minutes or Less - N
1 Make six-minute eggs: simmer gently, run under cold water until cool, then peel. Serve over steamed asparagus.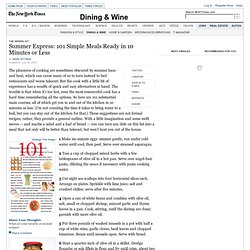 How to Make Sure That Nothing Gets Between You and Your Good Hab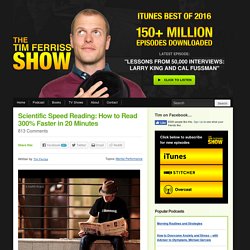 (Photo: Dustin Diaz) How much more could you get done if you completed all of your required reading in 1/3 or 1/5 the time?
This is the third part of a 12-part series I am posting through the end of December and into January 2009, examining the current understanding of productivity and where the concept might be heading in the future. I invite Lifehack's readers to be an active part of this conversation, both in comments here and on your own sites (if you have one). I will also soon announce some other venues where I and several others will be discussing some of the issues raised in this series.
Toward a New Vision of Productivity, Part 3: The Trouble with GT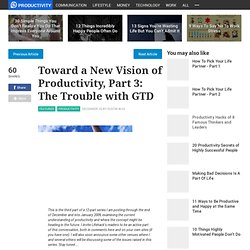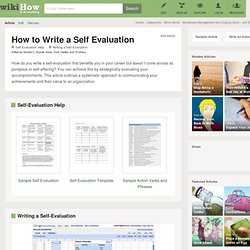 Edit Article
How to Write a Self Evaluation
Martin Seligman on positive psychology
Many people are really bad at estimating how much time a task will take. Perhaps you estimate you'll need about an hour, and it really takes you 3-4 hours to finish. Or maybe you allocate 30 minutes for a task, and you're done in 5 minutes.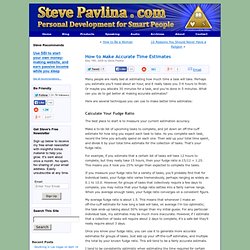 How to Make Accurate Time Estimates
How to Sleep in Airports - Tips and Advice - The Guide to Sleepi
So you've come to realize this site is not a complete joke and people DO actually sleep in the airport to save money on hotels or just to make sure they don't sleep in and miss their flight. You may now be curious about this odd idea of sleeping in airports and you may be asking yourself one (or all) of the following questions: Can I really sleep in an airport? How do I do it? What should I bring with me? What tips do you have to share with us airport sleeping newbies? Well, here are some ideas that will help you get started in your airport sleeping adventures.
Every Workday Needs a Game Plan
Almost everyone I know is working more time than they would like.
From Where I Sit: How to Shave Ten Hours Off Your Work Week
Would You Blog Differently If You Had Money?
The Ultimate Guide to Freezing Food | Former Fat Guy Blog
This two-part article looks at the many ways to freeze food (including specifics for common food types), as well as a few suggestions for getting the most out of your freezer itself.
Interpreting Technology Hype When new technologies make bold promises, how do you discern the hype from what's commercially viable?
understanding hype cycles
NaNoWriMo (National Novel Writing Month) is almost upon us. On November 1st, brave souls everywhere will embark on a month long endeavor to write a story of at least 50,000 words. We've gathered 30+ tools to help those folks who want to try their hand at it.