Fonts
Font Conference - CollegeHumor video
Nimbus Sans
is a sans-serif typeface created by URW++ , based on Helvetica . [ edit ] Nimbus Sans It is a version using URW++ font source. The family supports Western Europe, East Europe, Turkish, Baltic, Romanian languages.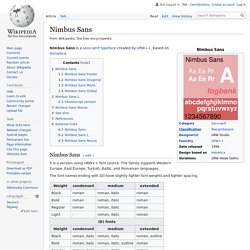 Welcome to Baseline Magazine
Advertising Info Welcome to my font collection. A few years back I was looking for a font for a project i was working on and was amazed that there was no easily browseable collection of Fonts for the Mac anywhere on the net.
Mac Font Vault
Open Font Library Type Casting.
WhatTheFont Forum : MyFonts