Excel
Excel IF Function Tutorial | Excel Basics - Productivity Portfol. 24 Things You Can Do With an Index Card « Web Worker Daily. While many of us are almost completely digital, and do just about everything on the web, there's a growing movement to go back to analog.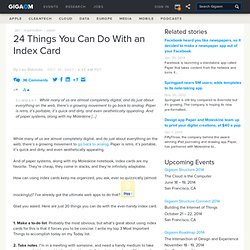 Paper is retro, it's portable, it's quick and dirty, and even aesthetically appealing. And of paper systems, along with my Moleskine notebook, index cards are my favorite. They're cheap, they come in stacks, and they're infinitely adaptable. How can using index cards keep me organized, you ask, ever so quizzically (almost mockingly)? Excel - My Excel Pages. My Excel Pages: ©: 1997 - 2008 F.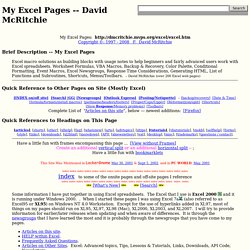 David McRitchie Brief Description -- My Excel Pages.
---