Code
10 Rare HTML Tags You Really Should Know - Nettuts+ Web developers these days are often expected to know and work in multiple languages.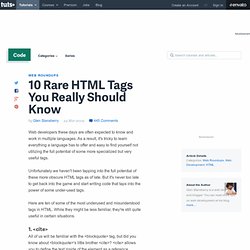 As a result, it's tricky to learn everything a language has to offer and easy to find yourself not utilizing the full potential of some more specialized but very useful tags. Unfortunately we haven't been tapping into the full potential of these more obscure HTML tags as of late. CleanCode.jpg (JPEG Image, 1652x1275 pixels) 456 Berea Street: Articles and news on web standards, accessibil. Top 12 Ruby on Rails Tutorials. A former student asked me a few days ago how I learned Ruby on Rails.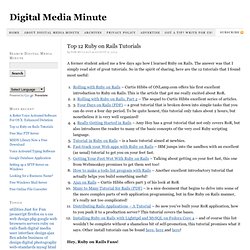 The answer was that I simply read alot of great tutorials. So in the spirit of sharing, here are the 12 tutorials that I found most useful: Rolling with Ruby on Rails – Curtis Hibbs of ONLamp.com offers his first excellent introduction to Ruby on Rails. This is the article that got me really excited about RoR.2. Rolling with Ruby on Rails, Part 2 – The sequel to Curtis Hibbs excellent series of articles.3. Backstage.bbc.co.uk :: Front Page :: Welcome.
---