Eating
Shaw's Crab House » Menus. We Appreciate Your Comments At Shaw's Crab House, we want you to have an enjoyable meal and great hospitality.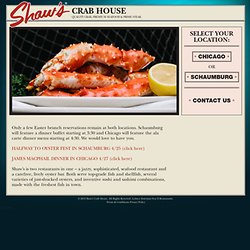 Please let us know about your experience, as we value your opinions and feedback. I am happy to answer any of your questions or address your concerns and will respond promptly. Please fill out the form here and I will contact you. Your feedback is important to us.Please email me at slahaie@leye.com and I will respond to your inquiry promptly. Petterino's Restaurant | Bite Cafe. Hoosier Mama Pie Company | Homemade Pies in Chicago | Deluxe Recipes™ IRAZU CHICAGO | 1865 N. Milwaukee Ave, Chicago. ::Yoshi's Cafe, Chicago:: *** Crisp *** www.crisponline.com *** Home of the Budha Bowl and The Funke Chicken *** Mindy's Hot Chocolate - Chicago dessert bar - American Cuisine. Floriole Cafe and Bakery. Cafe Ba-Ba-Reeba | Our restaurant | Twin Anchors Restaurant & Tavern. Located in an historic Old Town building that dates back to 1881, Twin Anchors Restaurant & Tavern® is one of the oldest restaurants in the city of Chicago.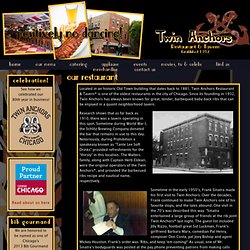 Since its founding in 1932, Twin Anchors has always been known for great, tender, barbequed baby-back ribs that can be enjoyed in a quaint neighborhood tavern. Research shows that as far back as 1910, there was a tavern operating in this spot. Sometime during World War I, the Schlitz Brewing Company donated the bar that remains in use to this day. Notoriously, during Prohibition a speakeasy known as "Tante Lee Soft Drinks" provided refreshments for the "thirsty" in this location. Pizza :: Locations. The Purple Pig Chicago.
---