Eating
Shaw's Crab House » Menus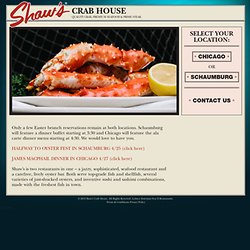 We Appreciate Your Comments At Shaw's Crab House, we want you to have an enjoyable meal and great hospitality. Please let us know about your experience, as we value your opinions and feedback. I am happy to answer any of your questions or address your concerns and will respond promptly. Please fill out the form here and I will contact you. Your feedback is important to us.Please email me at slahaie@leye.com and I will respond to your inquiry promptly.
Menus: tortas & caldos | breakfast If Topolo pampers and Frontera dances, then XOCO rocks. Though the word is Mexican slang for "little sister" (from the ancient Aztec language), there's nothing little about XOCO's big, bold Mexican marketplace flavors. Open early, late and closed on Sundays and Mondays, this quick-service cafe from Rick and Deann Bayless proffers contemporary expressions of Mexico's most beloved street food and snacks: hot-from-the-fryer churros and flaky empanadas; frothy Mexican hot chocolate (ground from Mexican cacao beans right in our front window!); warm, crusty tortas (Mexican submarine sandwiches); and made-to-order caldos (meal-in-a-bowl soups) that feature everything from roasted vegetables to seafood to pork belly.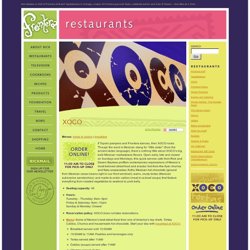 XOCO: Restaurants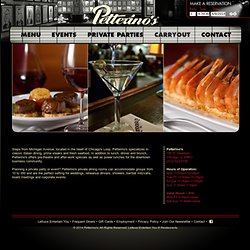 Petterino's Restaurant |
Steps from Michigan Avenue, located in the heart of Chicago's Loop, Petterino's specializes in classic Italian dining, prime steaks and fresh seafood. In addition to lunch, dinner and brunch, Petterino's offers pre-theatre and after-work specials as well as power lunches for the downtown business community. Planning a private party or event?
Bite Cafe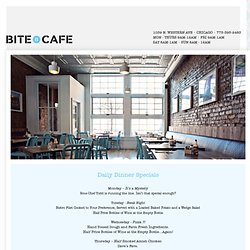 Daily Dinner Specials Tuesday - Steak NightBistro Filet Cooked to Your Preference, Served with a Loaded Baked Potato and a Wedge Salad 20Half Price Bottles of Wine at the Empty Bottle Wednesday - 3 Course Prix Fixe - $23 Per Guest Choose One Appetizer, One Entree, and One Dessert from our Full Menu (Specials Excluded)Half Price Bottles of Wine at the Empty Bottle…Again! Thursday – Vegetarian Frito PieVegetarian Kidney Bean Chili, Fritos Corn Chips, Cheddar Cheese 8 Friday - Friday Fish FryBeer Battered Tilapia with Fries and Slaw 14
Hoosier Mama Pie Company | Homemade Pies in Chicago | Deluxe Recipes™
IRAZU CHICAGO | 1865 N. Milwaukee Ave, Chicago
::Yoshi's Cafe, Chicago::
*** Crisp *** www.crisponline.com *** Home of the Budha Bowl and The Funke Chicken ***
Mindy's Hot Chocolate - Chicago dessert bar - American Cuisine
Floriole Cafe and Bakery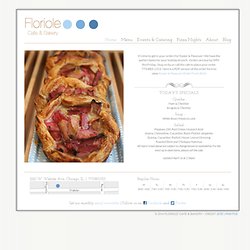 We will be doing our next Bread Class on Tuesday, January 21st from 7-9PM. There are only a few spots left!! Please call the cafe to reserve your place. 773-883-1313. This is one class that you don't want to miss!
Cafe Ba-Ba-Reeba |
Located in an historic Old Town building that dates back to 1881, Twin Anchors Restaurant & Tavern® is one of the oldest restaurants in the city of Chicago. Since its founding in 1932, Twin Anchors has always been known for great, tender, barbequed baby-back ribs that can be enjoyed in a quaint neighborhood tavern. Research shows that as far back as 1910, there was a tavern operating in this spot. Sometime during World War I, the Schlitz Brewing Company donated the bar that remains in use to this day. Notoriously, during Prohibition a speakeasy known as "Tante Lee Soft Drinks" provided refreshments for the "thirsty" in this location.
our restaurant | Twin Anchors Restaurant & Tavern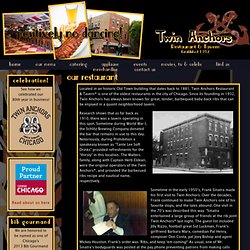 Pizza :: Locations
The Purple Pig Chicago