Things I'd like to use--but never will
MomsMakeupStash ― I have a LOT of hair. It's long, straight and really fine and since there is SO much of it, brushing through it can be a painful, time consuming endeavour. The Macadamia Natural Oil No Tangle Pre-Styler Spray and their No Tangle Brush have become life altering for me.
Macadamia Natural Oil Detangling Duo: No Tangle Brush & Pre-Styler Spray by MomsMakeupStash
Location : My House and Woodcock Sports Centre, Aston University Date & time: about 7 am - Tuesday & Thursday - 16th & 18th November
This Week's Gym and Food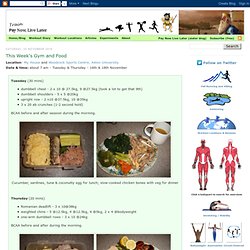 how to improve my wrintting english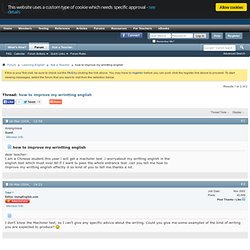 how to improve my wrintting english dear teacher: I am a Chinese student.this year l will get a macholer test .l worryabout my writting english in the english test which must over 60 if I want to pass the whole entrance test .can you tell me how to improve my writting english effectly it so kind of you to tell me.thanks a lot. Join Date Nov 2002 Posts 38,282 I don't know the Macholer test, so I can't give any specific advice about the writing.
What does IMFAO mean? - IMFAO Definition - Meaning of IMFAO
The dress code for the ceremony is Sub Fusc, which is as follows: A graduate gown, a mortar board or soft-cap, and your preferred items from the following list: 1. One of
Sub-fusc clothing | St Cross College, Oxford
Budget calculator: How will Budget 2013 affect you?
Anno Domini, or "Year of Our Lord". This is used to indicate a date that occurred after Christ's birth, such as "A.D. 1976". Note that the "A.D." comes before the date, not after.
Phrases & Abbreviations Catholics Use
Where there's water, life is possible. True, it may be very difficult and very hard to live, depending, but anyone who's driven, hiked, or camped in the American South West will have noticed that cities and ranches crop up where there's surface water or where there's been a well dug. Within the state of California, Nevada, Arizona, Utah, New Mexico, and Colorado, there are deserts, mesas, mountains, and forests where normally people never or rarely visit; not-so-secret places where there's water, access to a road within a day's hike, and where a fairly rugged individual may hide while remaining basically healthy, marginally well fed, and reasonably sane.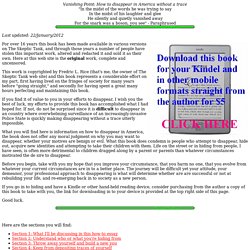 by guest artist/author: Caren At the end of 2009, I discovered a group of people on Facebook who rescue horses destined for the slaughterhouse. The funds for rescuing horses and finding new homes for them comes from donations raised weekly on Facebook. The whole experience of selling paintings for this cause has given me purpose, excitement, and direction in my art. It is a collaborative effort that benefits all involved: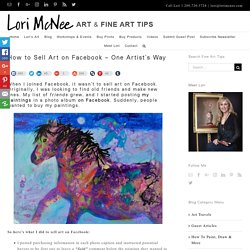 How to Sell Art on Facebook – One Artist's Way - Fine Art Tips With Lori McNee