The Art of the Lense: Photography
Photography | Arts and Craft Supplies and Accessories
A wedding is a major event in anyone's life. It is the biggest day for any newly weds and their family. However, humans will not inevitably do not forget each aspect of this particular day so they have to find a way to capture those memories. This is what a photograph does. It encapsulates dissimilar memories so that the happy couple and those in their lives will have something to look back on in the future. The wedding day happens once, there is no repeat.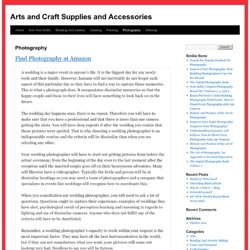 Portfolio - Website of zannysbrain!
About Gary Parker's Work With LPA The photos Gary took in New York are now available for viewing and purchase at http://dwarfism.smugmug.com. The password is "littlepeople" (no spaces). In recent years Gary's pro bono work with Little People of America (LPA) coupled with his own deep feelings towards the dwarfism community have motivated him to create the #1 dwarfism photography website in the world, a site which has positively impacted the lives of many Little People families worldwide, as well as many of average stature who have found the portraits a source of inspiration, education and delight.
Gary Parker Photography Copy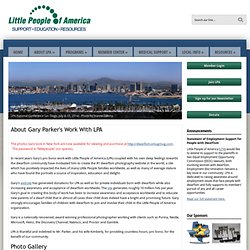 40 Stunning Examples of High Speed Photography
Photo Gallery - myproteus's JimdoPage!
National Geographic Magazine - NGM.com