Shame on You
After widowed military wife remarries, government asks for $41,000 benefit back. The government paid Freda Green $41,000 in 2003 when her 81-year-old husband died of an illness linked to his 34 years in the Air Force.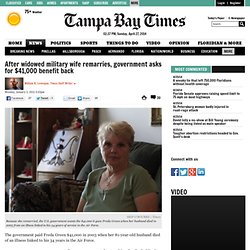 Green was nervous about cashing the check. Was it a mistake?
Bullying:The Big March. Bullying UK - Part of Family Lives, Help and support for the nation. What Parents Need To Know About Bullying. By Meg Quinlan: Teenage Disney star and singer Demi Lovato was recently treated for an eating disorder, bipolar disorder, and self-mutilation, and revealed that her increasingly destructive behavior began at age 8 after being bullied by her peers.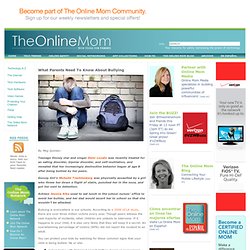 Gossip Girl's Michelle Trachtenberg was physically assaulted by a girl who threw her down a flight of stairs, punched her in the nose, and got her sent to detention. Actress Jessica Alba used to eat lunch in the school nurses' office to avoid her bullies, and her dad would escort her to school so that she wouldn't be attacked. Bullying is everywhere in our schools. Google to merge user data across its services. As Google grows, it wants to streamline its many products and keep single profiles about each user.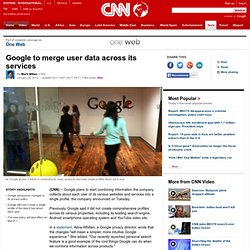 Google announces changes to its privacy policyGoogle will soon create a single profile of the data it has about each userThe new policy will take effect on March 1 (CNN) -- Google plans to start combining information the company collects about each user of its various websites and services into a single profile, the company announced on Tuesday. Previously, Google said it did not create comprehensive profiles across its various properties, including its leading search engine, Android smartphone operating system and YouTube video site. In a statement, Alma Whitten, a Google privacy director, wrote that the changes "will mean a simpler, more intuitive Google experience. " She added, "Our recently launched personal search feature is a good example of the cool things Google can do when we combine information across products. " Foxconn Employees Threaten Mass Suicide.
A group of about 300 employees at a Foxconn plant in Wuhan, China that makes Xbox 360s threatened to kill themselves last week after being denied compensation promised to them by the company, according to reports.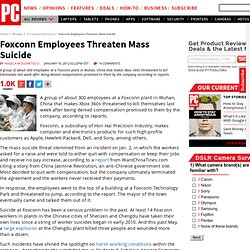 Foxconn, a subsidiary of Hon Hai Precision Industry, makes computer and electronics products for such high-profile customers as Apple, Hewlett-Packard, Dell, and Sony, among others. The mass suicide threat stemmed from an incident on Jan. 2, in which the workers asked for a raise and were told to either quit with compensation or keep their jobs and receive no pay increase, according to a report from WantChinaTines.com citing a story from China Jasmine Revolution, an anti-Chinese government site. Most decided to quit with compensation, but the company ultimately terminated the agreement and the workers never received their payments.
In response, the employees went to the top of a building at a Foxconn Technology Park and threatened to jump, according to the report. Participants and Contacts -- Chilling Effects Clearinghouse. The Chilling Effects Clearinghouse collects and analyzes legal complaints about online activity, helping Internet users to know their rights and understand the law.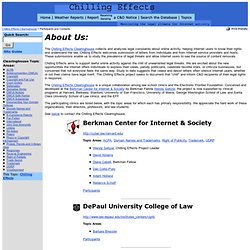 Chilling Effects welcomes submission of letters from individuals and from Internet service providers and hosts. These submissions enable us to study the prevalence of legal threats and allow Internet users to see the source of content removals. Chilling Effects aims to support lawful online activity against the chill of unwarranted legal threats.
We are excited about the new opportunities the Internet offers individuals to express their views, parody politicians, celebrate favorite stars, or criticize businesses, but concerned that not everyone feels the same way. Dwarf-Tossing, Long Banned, May Return In Florida : The Two-Way. Hide caption State Rep.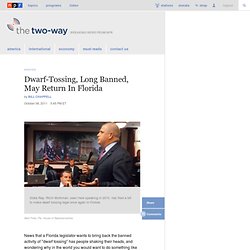 Ritch Workman, seen here speaking in 2010, has filed a bill to make dwarf tossing legal once again in Florida. Mark Foley /Fla. House of Representatives. The Illusionists » Blog Archive » An Egregious Example of Corporate Hypocrisy: Dove's "Real Beauty" Campaign. Posted: October 13th, 2008 | Author: elena | Filed under: advertising, airbrushing, corporate hypocrisy, media, TV commercials | Tags: advertising, airbrushing, corporate, media, racism, sexism | 2 Comments » About three months ago, upon completing the first phase of research for my film, I held two slideshow presentations in front of an audience of friends, acquaintances, and a few people working in the TV/movie industry in Paris.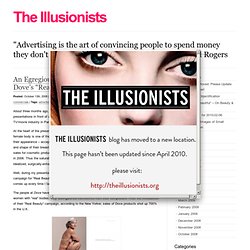 Very much in the style of Al Gore's "An Inconvenient Truth." At the heart of the presentation is the assertion that the obsession over the pursuit of the perfect female body is one of the integral parts of the capitalist system.
---