Educators
To Teach Social Skills, Educators Turn To TV. A unique program at one Pennsylvania school is using the power of television news to teach social skills to youngsters with Asperger's syndrome.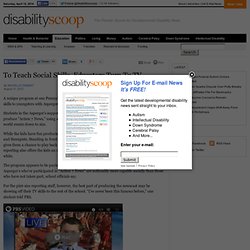 Students in the Asperger's support program at Worrall Elementary School outside Philadelphia produce "Action 7 News," using a green screen to bring everything from Major League Baseball to world events down to size. While the kids have fun producing the broadcast, the program is pure therapy, say their teachers and therapists. Standing in front of a camera helps the students learn to speak clearly. Saxon Publishers. GCSE Geography Revision. Serious Games For An Active Classroom | FUTURE-MAKING SERIOUS GAMES. Serious Games challenging us to play a better education Promethean Announces Partnership with BrainPOP Atlanta, June 22, 2007 -- Promethean, a global leader in interactive learning, announced an exciting new partnership with BrainPOP, the world's leading producer of online, animated educational content for grades K-12.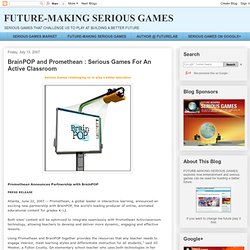 Both sites' content will be optimized to integrate seamlessly with Promethean Activclassroom technology, allowing teachers to develop and deliver more dynamic, engaging and effective lessons. THC Classroom — History.com TV Episodes, Schedule, & Video. Discovery Educator Network - A Community of Educators. Biography - DiscoverySchool.com. Discussion Guide Get up close and personal as you examine the basics of biography through the life stories of famous people in the United States.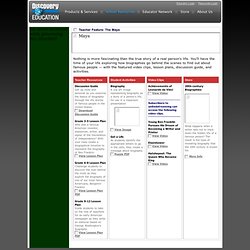 Download Discussion Guide Grade 3-5 Lesson Plan Who was a famous American inventor, statesman, writer, and signer of the Declaration of Independence? With your class create a biographical timeline to represent the biography of Ben Franklin. Augmented Reality Game Lets Kids Be the Scientists | 'Vanished' Game Mixes Online and Real Worlds | Science Education. President Barack Obama may have urged Americans to celebrate science fair winners as if they were Super Bowl champions during his 2011 State of the Union address, but American students still struggle with science.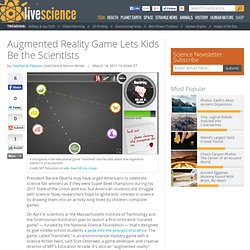 Now, researchers hope to ignite kids' interest in science by drawing them into an activity long loved by children: computer games. On April 4, scientists at the Massachusetts Institute of Technology and the Smithsonian Institution plan to launch a first-of-its-kind "curated game" — funded by the National Science Foundation — that's designed to give middle-school students a peak into the process of science. The game, called "Vanished," is an environmental mystery game with a science-fiction twist, said Scot Osterweil, a game developer and creative director of MIT's Education Arcade.
It's also an "augmented reality" game, meaning kids will do real-world experiments and activities that mesh with the fiction of the game. GCSE Bitesize - Religious Studies. Vanished. Vanished is a "curated game," a format derived from alternate reality games (ARGs) for museums, being developed by Education Arcade for the Smithsonian museums in Washington D.C., with NSF funding.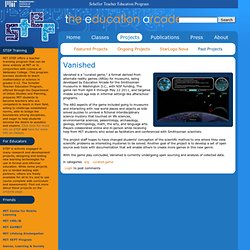 The game ran from April 4 through May 22 2011, and targeted middle school age kids in informal settings like afterschool programs. The ARG aspects of the game included going to museums and interacting with real world places and objects as kids solved puzzles to unravel a fictional interdisciplinary science mystery that touched on life sciences, environmental sciences, paleontology, archaeology, geology, anthropology, math, the arts, and language arts. Players collaborated online and in-person while receiving help from MIT students who acted as facilitators and conferenced with Smithsonian scientists. GCSE Physics Revision. Social Studies | U.S. Studies - American History (Grades 6 - 8)
Should we assign homework? Hi all, I'd like to start a discussion here on the benefits or drawbacks to assigning regular homework to students.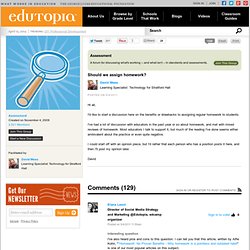 I've had a lot of discussion with educators in the past year or so about homework, and met with mixed reviews of homework. LOYOLA PRESS A Jesuit Ministry : Home.
---