Website Design
40 Online Generators for Web Designers Should Bookmark. Online Generators for Web Designers can be a great way to save time in your web design projects.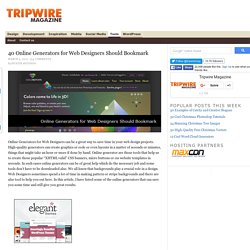 High-quality generators can create graphics or code or even layouts in a matter of seconds or minutes, things that might take an hour or more if done by hand. Online generator are those tools that help us to create those popular "XHTML valid" CSS banners, micro buttons or css website templates in seconds. 8 Re-Stained PaperTextures. I'm always looking for ways to combine existing textures to make new and interesting resources for you guys.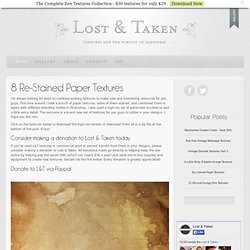 This time around I took a bunch of paper textures, some of them stained, and combined them in layers with different blending modes in Photoshop. I also used a high-res set of watercolor brushes to add a little extra detail. The outcome is a brand new set of textures for you guys to utilize in your designs. I hope you like 'em! Create a Slick and Minimalist Web Layout in Photoshop. In this Photoshop web design tutorial, we're going to learn how to create a slick and minimal-looking website layout.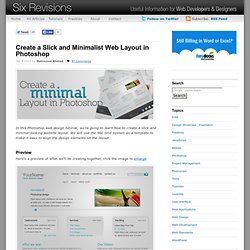 We will use the 960 Grid System as a template to make it easy to align the design elements on the layout. Preview Here's a preview of what we'll be creating together, click the image to enlarge. Create a new Photoshop document 1 We'll be using the 960 Grid System (download it at as a starting template. Icon Search Engine. Website Design Tutorial | How to Design a Website. A fully comprehensive step by step tutorial, from design to HTML & CSS.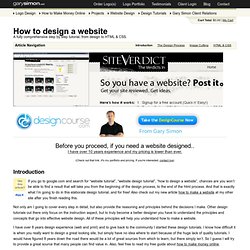 Introduction If you go to google.com and search for "website tutorial", "website design tutorial", "how to design a website", chances are you won't be able to find a result that will take you from the beginning of the design process, to the end of the html process. How To Design a Website in One Hour. For most professional designers, time equals money.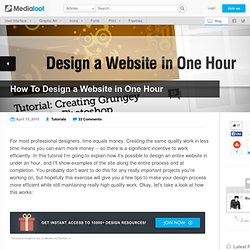 Creating the same quality work in less time means you can earn more money -- so there is a significant incentive to work efficiently. In this tutorial I'm going to explain how it's possible to design an entire website in under an hour, and I'll show examples of the site along the entire process and at completion. You probably don't want to do this for any really important projects you're working on, but hopefully this exercise will give you a few tips to make your design process more efficient while still maintaining really high quality work. Okay, let's take a look at how this works: Website Design Tutorial. How Do I Put My Pages On the Web?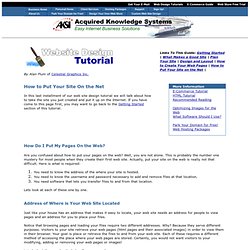 Are you confused about how to put your pages on the web? Well, you are not alone. This is probably the number one mystery for most people when they create their first web site. The 10 Most Important Skills You Need to be a Web Designer. Here are my top 10 web design skills that you WILL need to master to become an effective web designer.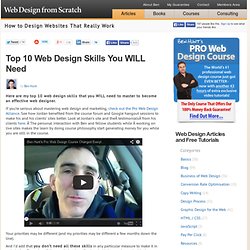 If you're serious about mastering web design and marketing, check out the Pro Web Design Alliance. See how Jordan benefited from the course forum and Google hangout sessions to make his and his clients' sites better. Free Stock Photos for your Website 11 Solid Sources :: Echo Enduring Blog. Looking for some photos for your website or blog?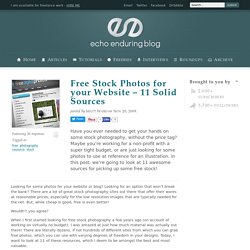 Looking for an option that won't break the bank? There are a lot of great stock photography sites out there that offer their wares at reasonable prices, especially for the low resolution images that are typically needed for the net. But, while cheap is good, free is even better! Wouldn't you agree? When I first started looking for free stock photography a few years ago (on account of working on virtually no budget), I was amazed at just how much material was actually out there!
70 Excellent Logo Design Tutorials and Resources. An effective logo sets the tone and public perception of your brand, and therefore careful thought and creativity must be put into constructing it.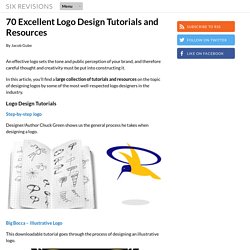 In this article, you'll find a large collection of tutorials and resources on the topic of designing logos by some of the most well-respected logo designers in the industry. Logo Design Tutorials Step-by-step logo Designer/Author Chuck Green shows us the general process he takes when designing a logo. Big Bocca – Illustrative Logo. 70 Tutorials Using Photoshop To Design A Website.
This article features a huge amount of Photoshop web design tutorials, which will teach you simple effects which can be combined together in order to create a great website design.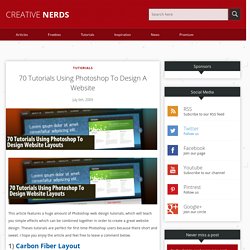 Theses tutorials are perfect for first time Photoshop users because there short and sweet. I hope you enjoy the article and feel free to leave a comment below. 100+ Awesome Grunge Background Textures. About ISPSD ISPSD focuses on Web Development , Graphics Elements along with Inspirational articles and also providing free PSD downloads for web designers .We are a small team right now who create different content types to make ISPSD a better design community. Our users are gathering free resources from public sources on the internet.
---