Sewing
The Elle Tie-On Slippers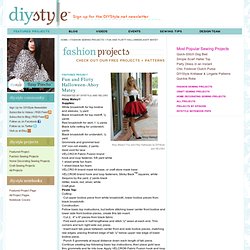 Ahoy Matey!! Fun and Flirty Halloween by DIYStyle and VELCRO Featured Project Fun and Flirty Halloween-Ahoy Matey presented by DIYStyle and VELCRO Ahoy Matey!!
DIY Style :: Projects :: Fashion Sewing Projects :: Fun and Flirty Halloween-Ahoy Matey
I know you've got them, lurking in drawers, the back of the closet, in the "giveaway" pile: those T-shirts that are, for various reasons, both unwearable and indispensable. They are too small, too big, too short, have a stain, a hole, or some other flaw, and yet you cannot bear to part with them. I took my old t-shirts and gave them new life. They were reincarnated as underwear.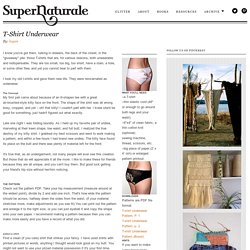 How to: Make Your Own Kaftan! - ediTORIal by Tori Spelling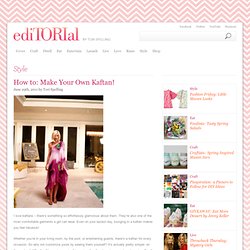 I love kaftans – there's something so effortlessly glamorous about them. They're also one of the most comfortable garments a girl can wear. Even on your laziest day, lounging in a kaftan makes you feel fabulous! Whether you're in your living room, by the pool, or entertaining guests, there's a kaftan for every occasion. So why not customize yours by sewing them yourself? It's actually pretty simple: on the scale of difficulty, if hemming a pair of jeans is a "one" and sewing a couture dress is a "ten," making your own kaftan is about a two or three.
(Warning: Lengthy post with many photos follows) Ditch the t-shirt this summer in favor of a bit of glamour with this oversized beach cover-up. The inspiration for this cover up came from a Neiman Marcus mailing. When I saw this black polyester caftan my first thought was "oh, how cute" followed by "I can sew that for a lot less than $120!"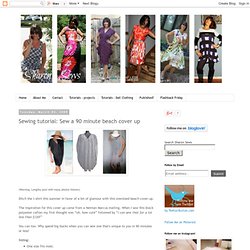 Sewing tutorial: Sew a 90 minute beach cover up