Benevolent People
Mohandas Karamchand Gandhi. Mohandas Karamchand Gandhi pronunciation (pronounced: [ˈmoːɦənd̪aːs ˈkərəmtʃənd̪ ˈɡaːnd̪ʱi] ; 2 October 1869 [ 1 ] – 30 January 1948), commonly known as Mahatma Gandhi , was the preeminent leader of Indian nationalism in British-ruled India .
Employing non-violent civil disobedience , Gandhi led India to independence and inspired movements for non-violence, civil rights and freedom across the world. [ 2 ] [ 3 ] Mother Teresa. The Blessed Teresa of Calcutta, M.C.,[1] commonly known as Mother Teresa (26 August 1910 – 5 September 1997), was a Roman Catholic Religious Sister and missionary[2] of Albanian origin who lived most of her life in India of which, since 1948, she was a citizen.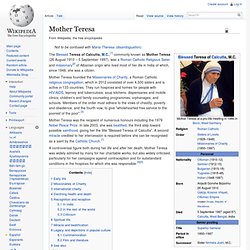 Mother Teresa was the recipient of numerous honours including the 1979 Nobel Peace Prize. In late 2003, she was beatified, the third step toward possible sainthood, giving her the title "Blessed Teresa of Calcutta". A second miracle credited to her intercession is required before she can be recognised as a saint by the Catholic Church.[1] A controversial figure both during her life and after her death, Mother Teresa was widely admired by many for her charitable works, but also widely criticised, particularly for her campaigns against contraception and for substandard conditions in the hospices for which she was responsible.[4][5] Clara Barton. Clarissa Harlowe "Clara" Barton (December 25, 1821 – April 12, 1912) was a pioneer nurse who founded the American Red Cross.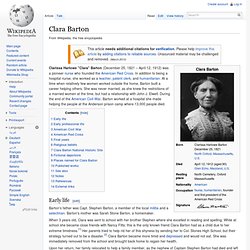 In addition to being a hospital nurse, she worked as a teacher, patent clerk, and humanitarian. At a time when relatively few women worked outside the home, Barton built a career helping others. She was never married, as she knew the restrictions of a married women at the time, but had a relationship with John J. Elwell.
---