21st Century Education
The pupils file in quietly class by class, the school hall lit from the front with five candles on a table. Soft music plays in the background and images of the pupils taken at various times of the year appear as a slideshow.
Schools revive 'touchy-feely' approach | Education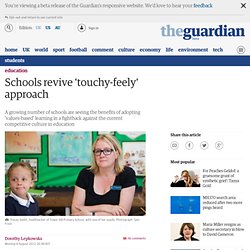 Does the education secretary, Michael Gove, have any evidence that making exams harder makes students better at anything? Photograph: Chris Radburn/PA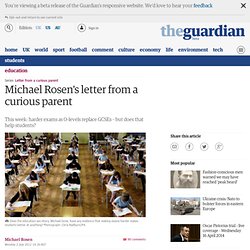 Michael Rosen's letter from a curious parent | Education
Ten reasons why game based learning works in education | connectED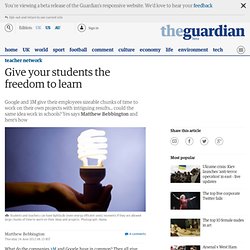 What do the companies 3M and Google have in common? They all give their employees pockets of time to work on what they are curious about.
Give your students the freedom to learn | Teacher Network Blog | Guardian Professional
Welcome to YouTube!
"Queen of Kodu" Tutorials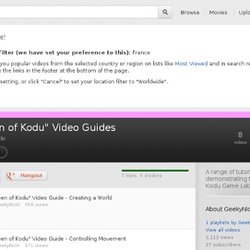 Andy Robertson
TED-Ed turns ideas into lessons, children into educators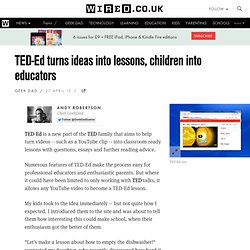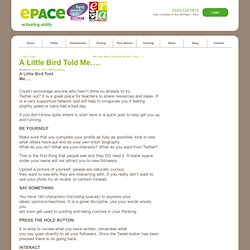 A Little Bird Told Me…. | ePace Online
April 20, 2012Mary Blake A Little Bird Told Me…. Could I encourage anyone who hasn't done so already to try Twitter out?
4 Lessons Elearning Can Take From The "Draw Something" App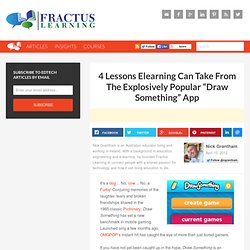 It's a dog… No, cow… No, a Furby! Conjuring memories of the laughter, tears and broken friendships shared in the 1985 classic Pictionary, Draw Something has set a new benchmark in mobile gaming.
Cloud Blog - Norfolk Cloud Experts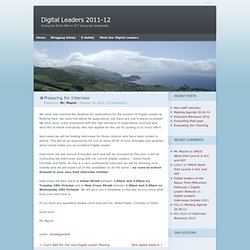 We have now reached the deadline for applications for the position of Digital Leader at Bowling Park. We have had about 40 applications, but there are just 9 places available! We have been really impressed with the high standard of applications received and we'd like to thank everybody who has applied for the job for putting in so much effort.
Digital Leaders 2011-12 - Preparing for Interview
My, aren't you busy!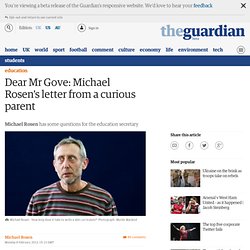 Dear Mr Gove: Michael Rosen's letter from a curious parent | Education
http://www.21stcenturyliteracy.org.uk/docs/Front-sheet-aims.pdf
teachercast
teachercast
Bill Gates' Big Play: How Much Can Money Buy in Education? - Living in Dialogue
What would happen if one of the wealthiest men in the world decided to remake the institution of public education in America? What if that man believed he understood the secrets to success, and sought to align the nation's schools to his vision and methods? What if he decided to devote all his time and considerable money to this objective? Could he succeed? We are in the process of finding out just how far money and a sharply defined agenda can take you.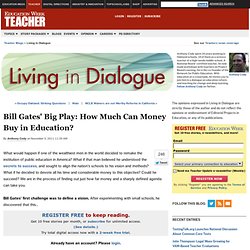 Kings Norton school embrace social media | B31 Voices
Broadmeadow pupils working at the computer Broadmeadow Junior School in Kings Norton have taken social media in the classroom to a new level.
A new post of "master teacher" is to be introduced to recognise the best performers and offer an alternative career path to becoming a school head. A review of teaching standards has recommended a new higher threshold for the best and most experienced teachers. Teachers who achieved master status would earn significantly higher salaries without cutting their teaching hours, as many do if they become assistant head teachers. The proposal was put forward by a review of teaching standards set up by the Government and led by Sally Coates, head teacher of Burlington Danes Academy in Hammersmith, West London.
Best teachers to be made 'masters' of the classroom
Teaching Strategies Creating a Common Craft-style video is part of the classroom assignment. By Shelley Wright I teach in an inquiry, project-based, technology embedded classroom. A mouthful, I know.
Embedding ICT - For added flavour, liberally sprinkle some ICT
This handful of resources provide about 100 different ideas for, and examples of, using Twitter in the classroom. It's been almost 8 months since I published the post, "6 Examples of Using Twitter in the Classroom", about uses of the popular micro-blogging tool in the instructional setting. This post generated a lot of traffic, and continues to attract hundreds of viewers every week. Since that brief posting, I've come across a lot of articles containing examples and suggestions for using Twitter in instructional applications. I've combed through many of these and tried to boil down the redundancies to create a rich set of idea-laden resources. While there's still going to be some overlap in the concepts presented in these articles, they clearly meet the goal of providing a thorough set of ideas and examples for leveraging Twitter in the educational process.
Culture Digital Tools Teaching Strategies
You Cannot Afford Not to Become a Digital Leader!
Try IT this year – Ten Techie things to try this year | ICTmagic
How do we make our schools fit to face the 21st century? | Education | The Observer