Vegan
Better Than Hashbrowns
The following article was written by Keegan Baur. Spring is upon us, and I, for one, am so ready for warm weather. This past weekend, I wanted to cook a fresh and light dinner and decided to try the Avocado Pesto Pasta dish à la Chef Chloe . It hit the spot for me, and I'm definitely excited to use more recipes by this budding new vegan chef. Now see for yourself how easy it is to make this scrumptious dish!
Say 'Yes' to Pesto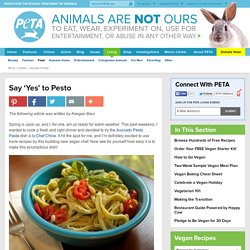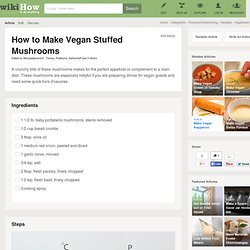 How to Make Vegan Stuffed Mushrooms: 6 steps
Edit Edited by Michaelabrams01, Teresa, Pratiksha, KatherineP and 2 others A crunchy bite of these mushrooms makes for the perfect appetizer or complement to a main dish. These mushrooms are especially helpful if you are preparing dinner for vegan guests and need some quick hors d'oeuvres.
Edit Edited by Flickety, Filigree Peahen, Maniac, Amberlyn and 5 others If you're a vegetarian, you may be aware that green curry paste often contains fish or seafood extracts that are not suitable for a vegetarian diet. Here is a recipe that still keeps that glorious green curry taste and meets the vegetarian requirement. Edit Ingredients
How to Make Vegetarian Green Curry Paste: 7 steps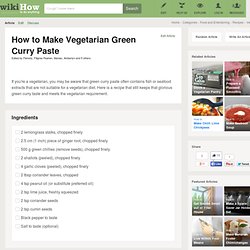 Vegan Nuggets: Fun for Everyone
The following article was written by Keegan Baur. Growing up, who didn't adore eating chicken nuggets? They're tasty and fun to dunk into sauces. But with chickens inhumanely slaughtered in order to produce poultry products for places like McDonald's and KFC , one shudders to think of what actually goes into these bite-size snacks. I mean, honestly, how many children would still clamor for Happy Meals if they knew that birds are hung upside down and have their throats cut while they're still conscious—all to make McNuggets? Instead, I'm guessing that they'd opt to write to McDonald's ASAP and demand a less cruel method of slaughter known as " controlled atmosphere killing ," which renders birds unconscious before they are killed.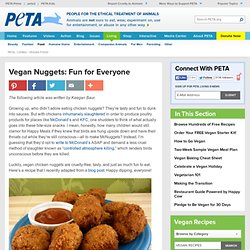 Plant-Based Nutritarian Weight Loss Recipe Blog
Recipes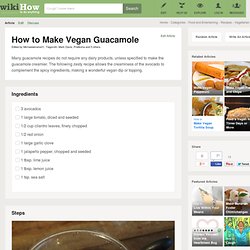 How to Make Vegan Guacamole
Edit Edited by Michaelabrams01, Tiagoroth, Mark Davis, Pratiksha and 5 others Many guacamole recipes do not require any dairy products, unless specified to make the guacamole creamier. The following zesty recipe allows the creaminess of the avocado to complement the spicy ingredients, making a wonderful vegan dip or topping.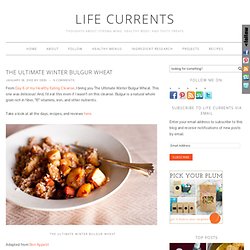 From Day 6 of my Healthy Eating Cleanse , I bring you The Ultimate Winter Bulgur Wheat. This one was delicious! And, I'd eat this even if I wasn't on this cleanse. Bulgur is a natural whole grain rich in fiber, "B" vitamins, iron, and other nutrients.
The Ultimate Winter Bulgur Wheat | Life Currents
Bring 6 quarts of salted water to a boil in an 8-quart pot over high heat. Pour the tomatoes and their liquid into the work bowl of a food processor. Using quick on/off pulses, process the tomatoes just until they are finely chopped. (Longer processing will aerate the tomatoes, turning them pink.)
Random Vegan Recipes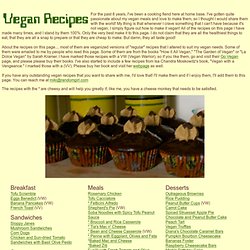 Made Just Right
Even if you don't live in Seattle, I am sure that you heard about our crazy weather this week. It was impossible not to hear about Seattle's great "Snowmageddon" storm all over the news. Let me be the first to tell you how grateful that I am the storm is finally over the and city has returned to normal. I live fairly close to my job in downtown Seattle so even with the snow I was still braving the outdoors and public transit all week. I didn't mind the snow and the cold, but waiting 45 minutes for a bus wasn't exactly a highlight. There is nothing worse than waiting for a bus in the cold darkness at 5:30 am when you are hungry.
For the Love of Food: Banana & Seed Granola Bars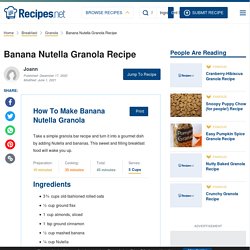 Warm spices, strong tea and steamed milk swirling around in my tummy make chai lattes a favorite during the winter months. It warms me from the inside out in a way that puts coffee and tea to shame. Unfortunately, the chai concentrate from certain coffee chains is too sweet. But there is something better. It never occurred to me to make my own chai. (Certainly it must be too hard.)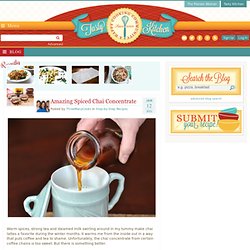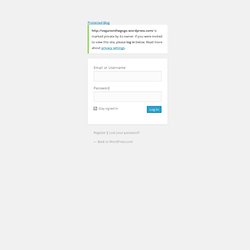 A Feast with Friends « Vegan on the Go-Go
Last night, my usual group of vegetarian friends convened for our monthly potluck , and as always, the food was delicious, the conversation, compelling, and the company, delightful! Pasta salad, provided by my husband and me (recipe follows!); another friend provided tortillas, homemade hummus, and an assorted of fresh veggies to make wraps.
Super Smoothie | Mitch Spinach A timely and innovative book series geared towards children ages 3-10, teaching how to get Super Powers from Fruits and Veggies
I don't usually write about my personal life on my blog, but today marks a bit of a personal milestone that I wanted to share – it's my one year anniversary of being vegetarian! I had already considered myself a 'flexitarian' for awhile, but one year ago today marks the official day that I made the decision to stop eating meat completely....and I'm happy to say that I haven't looked back since! I thought it would be difficult to give up some of my favourite fish or chicken meals, but honestly I haven't ever craved them.
Vanilla & Spice: Cranberry Apple-Cinnamon Quinoa