Textures
42+ Free Photoshop Textures. 27 useful texture packs - David Gheorghita // creat!ve.thoughts. Pencil sketches, handwritten notes, card stocks, watercolor effects, vintage & retro, collage art, script fonts, grungy and splatter ink backgrounds.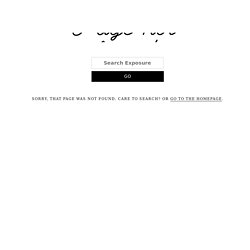 These are the new trends in graphic/web design and when it comes to those types of design, textures are always useful. Below is a list of found freebies. Sources: bittbox , fudgegraphics , deviantart , gomediazine , spoongraphics & lostandtaken . Enjoy! 30 Most Incredible Textures for Vintage Style Design. One of the most important aspects of a good vintage style design is the use of authentic looking textures.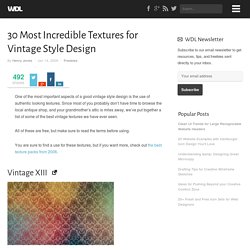 Since most of you probably don't have time to browse the local antique shop, and your grandmother's attic is miles away, we've put together a list of some of the best vintage textures we have ever seen. All of these are free, but make sure to read the terms before using. You are sure to find a use for these textures, but if you want more, check out the best texture packs from 2008. Vintage XIII +texture. Browse. 20 Free Grunge Photoshop Patterns Sets. The use of patterns in Photoshop enables you to cover a very large area with a seamless pattern or texture.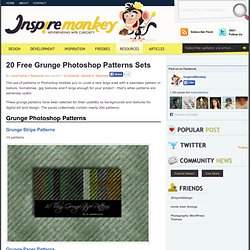 Sometimes .jpg textures aren't large enough for your project - that's when patterns are extremely useful. These grunge patterns have been selected for their usability as backgrounds and textures for digital art and design. The packs collectively contain nearly 200 patterns. 30 Great Free Paper Backgrounds and Textures. One of the best free stuff Graphic Designers can find on the Web for free are high resolution backgrounds and textures.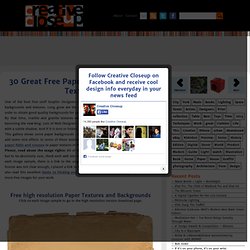 Long gone are the days when you had to buy very expensive CDs in order to obtain good quality backgrounds for your design projects. By that time, marble and granite textures were all the rage.
---