Text Effects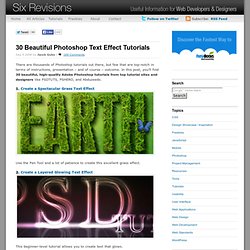 There are thousands of Photoshop tutorials out there, but few that are top-notch in terms of instructions, presentation – and of course – outcome. In this post, you'll find 30 beautiful, high-quality Adobe Photoshop tutorials from top tutorial sites and designers like PSDTUTS, PSHERO, and Abduzeedo. 1. Create a Spectacular Grass Text Effect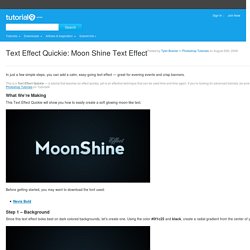 Text Effect Quickie: Moon Shine Text Effect
In just a few simple steps, you can add a calm, easy-going text effect — great for evening events and crisp banners. This is a Text Effect Quickie — a tutorial that teaches an effect quickly, yet is an effective technique that can be used time and time again. If you're looking for advanced tutorials, be sure to check out the rest of our Photoshop Tutorials on Tutorial9!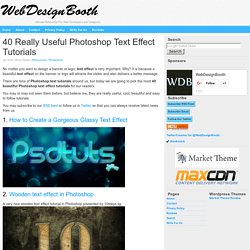 No matter you want to design a banner or logo, text effect is very important. Why? It is because a beautiful text effect on the banner or logo will attracts the visitor and also delivers a better message. There are tons of Photoshop text tutorials around us, but today we are going to pick the most 40 beautiful Photoshop text effect tutorials for our readers. You may or may not seen them before, but believe me, they are really useful, cool, beautiful and easy to follow tutorials. You may subscribe to our RSS feed or follow us in Twitter so that you can always receive latest news from us.
Advertisement Photoshop's text and layer tools can be used to create some really awesome effects. We've put together a list of 60 of the best tutorials we could find to help you stay up to date on the latest trends and techniques.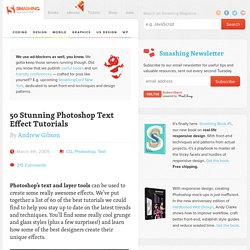 Last month I published a collection of 45 Photoshop Tutorials for Better Navigation, which quickly became one of the most popular posts on this blog. Due to the response, I spent some time finding more great Photoshop tutorials. Here are 50 of the best tutorials for working with text. If you are interested in inspiration for typography and text effects, you'll love our new gallery site TypeInspire.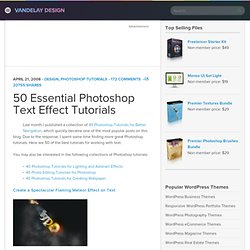 The Top 30 Photoshop Text Effects Tutorials of 2008 – Which is the Best? You choose (vote at the bottom of the post). 1.
The Top 30 Photoshop Text Effects Tutorials of 2008 – Which is the Best?