Virtual Education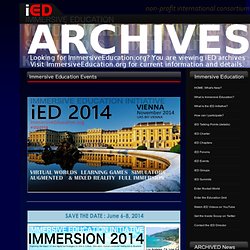 Immersive Education Events | Immersive Education Initiative
SAVE THE DATE: Immersive Education 2014, June 6-8, Los Angeles, California USA Building on the success of the previous 8 years of Immersive Education conferences, the world's leading experts in immersion convene in Los Angeles for the annual iED global conference. For the first time since inception iED 2014 features an entirely new conference format that you'll find exciting and extremely engaging.
OAR Gen Station yesterday i was messing with Enclave Harbour's roads and also cleaning up some other work. one is a store that we won't need for kids so i removed 40 textures or so that were in it. this morning i grabbed the backup OARs from last night (James of SimHost created an in-world object that automatically backs up each OAR daily) and i noticed that the sim i had been working on saw a big size reduction in the OAR size – from 27 megs to 15 megs!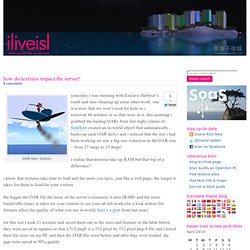 how do textures impact the server? at i live in science land
VWBPE Live Media
Pharmacy students at The University of Queensland (UQ) are learning how to do drug dosing calculations by working in a three-dimension virtual world. UQ's School of Pharmacy is one of 10 universities from around the world that has collaboratively developed an innovative pharmacy learning resource using online virtual reality platform 'Second Life'. The group has created a virtual island called 'Pharmatopia', which is divided into four zones, each with specific teaching and learning objectives including a manufacturing zone, clinical zone, community zone and industrial zone. UQ Pharmacy lecturers, Ms Jacqueline Bond and Dr Sally Firth, who have been involved in the development of 'Pharmatopia', introduced UQ's first-year pharmacy students to 'Pharmatopia' for the first time this semester as part of a virtual laboratory class.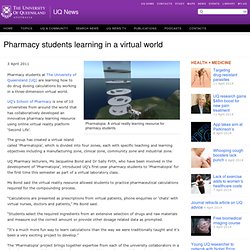 Pharmacy students learning in a virtual world - UQ News Online - The University of Queensland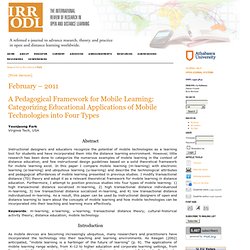 Yeonjeong Park Virginia Tech, USA Abstract Instructional designers and educators recognize the potential of mobile technologies as a learning tool for students and have incorporated them into the distance learning environment.
A pedagogical framework for mobile learning: Categorizing educational applications of mobile technologies into four types | Park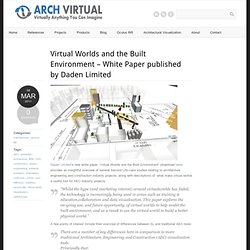 Daden Limited's new white paper, 'Virtual Worlds and the Built Environment' (download here) provides an insightful overview of several Second Life case studies relating to architecture, engineering and construction industry projects, along with descriptions of what make virtual worlds a useful tool for AEC industry projects. "Whilst the hype (and marketing interest) around virtualworlds has faded, the technology is increasingly being used in areas such as training & education,collaboration and data visualisation. This paper explores the on-going use, and future opportunity, of virtual worlds to help model the built environment, and as a result to use the virtual world to build a better physical world."
Virtual Worlds and the Built Environment - White Paper published by Daden Limited
Call for Book Chapters: Postcards from the Metaverse
Postcards from the Metaverse —– Reflections on how the entangling of the virtual with the physical may impact society, politics, and the economy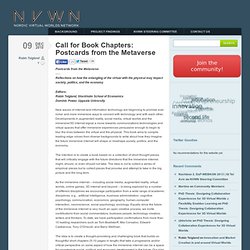 Searching for local service provider in Australia was made easy. All thanks to Oneflare for providing quality e-marketing platform where thousands of service providers are always on stand-by to receive an offer from consumers. Since consumers are now turning to the internet to search for almost everything that they need. This company on the other hand also has its own way in providing consumer what they need at the best cause as possible that will benefit both the consumer and local service provider from Australia.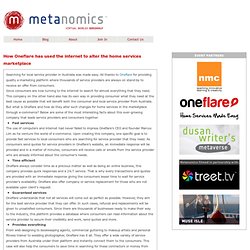 Transcripts — Virtual Worlds Education Roundtable