Metanomics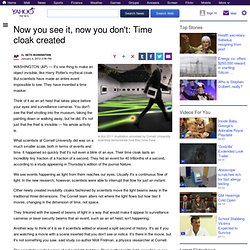 WASHINGTON (AP) — It's one thing to make an object invisible, like Harry Potter's mythical cloak. But scientists have made an entire event impossible to see. They have invented a time masker.
Now you see it, now you don't: Time cloak created
What do you love?
MCF: 2011.Jun.09 | Designing Digitally: How Virtual Business Gets Done
Teaching students how to build airplanes, robots and simulations is serious business, but Designing Digitally, Inc. plans to make it a game — literally. Join us for the Metanomics Community Forum on Thursday, when Andrew Hughes of Designing Digitally updates us on his firm's virtual activities. He claims that he is bringing a secret guest who has very real information on exactly how Designing Digitally gets things done.
MCF: 2011.May.26 | FCVW.2011 Via the Media Flow
Today, the Metanomics Community Forum will re-visit the Federal Consortium for Virtual Worlds 2011 conference which took place recently in Washington, DC. One day of workshops followed by two days of presentations from both government and the private sectors covered many topics and way streamed to a number of virtual platforms.
Searching for local service provider in Australia was made easy. All thanks to Oneflare for providing quality e-marketing platform where thousands of service providers are always on stand-by to receive an offer from consumers. Since consumers are now turning to the internet to search for almost everything that they need.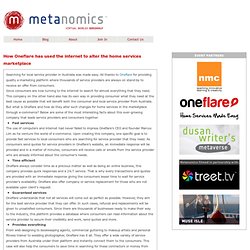 Mind Reading with Technology: What's Possible Now?, Can a mind really be "read?" Learn how researchers are using new technologies to "see" what the human b
Philip Rosedale and Tom Boellstorf, Live from the Yerba Buena Center for the Arts—Update
Educators have a special energy in the summer. Perhaps it is the freedom from classes, grading and being so adult. Summer is a great time for learning, exploring and yes, professional development but why choose something dry and serious.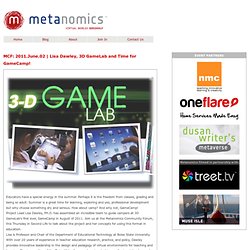 Location-Based Linking in Second Life
April 21, 2011 by primperfect
A Perfect Jewel of a Community Forum for Designing Worlds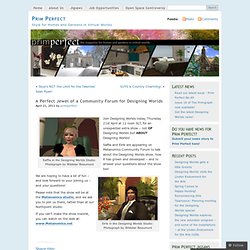 The Customizable Body: The Present/Future of Identity
The evolution of language: Babel or babble? | The Economist
Economics: Jonathan Levin wins the John Bates Clark medal
The IEEE Daily
SLRoboWeek
Virtual National Robotics Week « Virtual IEEE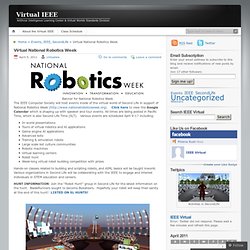 Home > Events, IEEE, SecondLife > Virtual National Robotics Week Banner for National Robotics Week
Archivist Llewellyn's Photostream
Join us for a special date and time as Metanomics broadcasts live from Gametech, the annual military conference on games and virtual worlds for training and simulation. Virtual worlds have become an important technology to support training and community outreach. But over the past several years, changes in the virtual world industry have opened up new choices while closing others. Advances like the consumer adoption of Microsoft Kinect, widening use of Unity 3D, and the coming changes to the browser with the launch of HTML-5 and WebGL are opening up a new range of options. Join Douglas Maxwell, Science and Technology Manager for Virtual World Strategic Applications at the U.S. Army Simulation & Training Technology Center (STTC) as he welcomes a panel to explore current and future trends in virtual worlds.
March 24th: LIVE from Gametech Orlando - The Future of Virtual Worlds |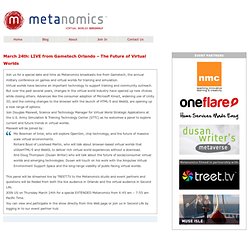 Amputee Virtual Environment Support Space-A vision for virtual military amputee support
Volume 47 Number 6, 2010 Pages vii — xi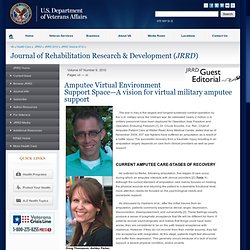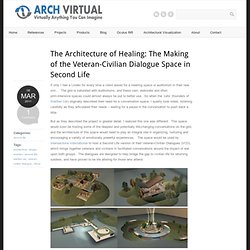 If only I had a Linden for every time a client asked for a meeting space or auditorium in their new sim… The grid is saturated with auditoriums, and these vast, elaborate and often prim-intensive spaces could almost always be put to better use. So when the 'cats' (founders of Startled Cat) originally described their need for a conversation space, I quietly took notes, listening carefully as they articulated their needs – waiting for a pause in the conversation to push back a little.
The Architecture of Healing: The Making of the Veteran-Civilian Dialogue Space in Second Life
MCF_03_10_11 on Metanomics Community Forum
Educators have a special energy in the summer. Perhaps it is the freedom from classes, grading and being so adult. Summer is a great time for learning, exploring and yes, professional development but why choose something dry and serious. How about camp? And why not, GameCamp! Project Lead Lisa Dawley, PH.D. has assembled an incredible team to guide campers at 3D GameLab's first ever, GameCamp in August of 2011.
February 28th: Cyborg to Borg—Cont'd,  with Michael Chorost |
Select words by thinking - world record
presents Michael Chorost March 14; all are welcome to attend!
Michael Chorost, author of Rebuilt: How Becoming Part Computer Made Me More Human, a memoir about receiving cochlear implants, will read passages and discuss his most recent book Word Wide Mind: The Coming Integration of Humanity, Machines, and the Internet. For an overview of the book, click here.
Metanomics: Feb.21 | Robert Bloomfield hosts Paul Ford, Writer and Web Native
Thursday, January 6, 2011
I Am Gary Benchley by Paul Ford
One Saturday night well over a year ago, I went to Williamsburg, Brooklyn—more specifically, to the bar Galapagos—to meet my girlfriend, Mo, who wanted me with her at a modern burlesque show where one of her friends was performing. I emerged from the Bedford Avenue L-train stop into a parallel universe where everyone seemed to be pressed out of the same mold. Each man seemed to wear a trucker hat; each woman seemed to wear a little T-shirt and was laden with 10 pounds of accessories.
February 7th: Daryl J. Bem, Social Psychologist Emeritus Joins Robert Bloomfield at 12pm (PT) |
Professor Emeritus from Cornell (and Metanomics Guest) Incites Scientific Community
February 10th: Event News
FeelingFuture - Powered by Google Docs
Exploring the serious uses of virtual worlds | Metanomics
Come to the Nonprofit Commons tomorrow, Friday May 20, to chat with David Burden, head of the virtual world development company Daden, Ltd about their new "Virtual World Finder" they have just released.
Daden, Ltd Talks about their "Virtual World Finder" Tomorrow, May 20 in Second Life
Second Life
Google
Why Tyler Cowen's new book will be on Kindles, not bookstore shelves » Nieman Journalism Lab » Pushing to the Future of Journalism
Book Chat: A Conversation With Tyler Cowen
May « 2011 « Virtual Body Language
Designing Digitally, Inc. Wins 2011 Air Force Research Lab Virtual World Contract
How virtual worlds will converge
Continuing Medical Education in Second Life
11 Predictions for 2011 (and beyond)
Rod Humble: Here's how Second Life can rule the world
How Linden Lab could simplify promotion in Second Life
Business and Technology in Second Life » Perhaps I should blog a bit more here…
IDIA - Ball State University - projects
New story - storify.com