Metanomics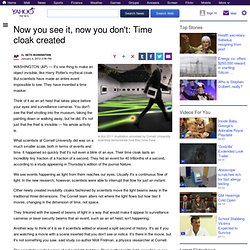 WASHINGTON (AP) — It's one thing to make an object invisible, like Harry Potter's mythical cloak. But scientists have made an entire event impossible to see. They have invented a time masker.
Now you see it, now you don't: Time cloak created
What do you love?
MCF: 2011.Jun.09 | Designing Digitally: How Virtual Business Gets Done
Teaching students how to build airplanes, robots and simulations is serious business, but Designing Digitally, Inc. plans to make it a game — literally. Join us for the Metanomics Community Forum on Thursday, when Andrew Hughes of Designing Digitally updates us on his firm's virtual activities. He claims that he is bringing a secret guest who has very real information on exactly how Designing Digitally gets things done.
MCF: 2011.May.26 | FCVW.2011 Via the Media Flow
Today, the Metanomics Community Forum will re-visit the Federal Consortium for Virtual Worlds 2011 conference which took place recently in Washington, DC. One day of workshops followed by two days of presentations from both government and the private sectors covered many topics and way streamed to a number of virtual platforms. The media stream that resulted continues a week later and we'll look at how that affects the reach of an event. Join us, Thursday at 12pm PDT in Second Life at the Metanomics Studio. Please feel free to post comments here with links to coverage that I may have missed. Resources:
Searching for local service provider in Australia was made easy. All thanks to Oneflare for providing quality e-marketing platform where thousands of service providers are always on stand-by to receive an offer from consumers. Since consumers are now turning to the internet to search for almost everything that they need.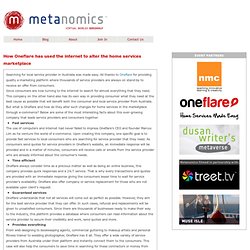 Mind Reading with Technology: What's Possible Now?, Can a mind really be "read?" Learn how researchers are using new technologies to "see" what the human b
Philip Rosedale and Tom Boellstorf, Live from the Yerba Buena Center for the Arts—Update
Educators have a special energy in the summer. Perhaps it is the freedom from classes, grading and being so adult. Summer is a great time for learning, exploring and yes, professional development but why choose something dry and serious.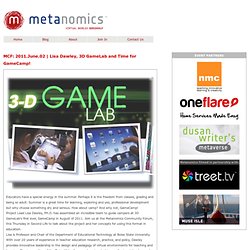 Location-Based Linking in Second Life
April 21, 2011 by primperfect Saffia in the Designing Worlds Studio: Photograph by Wildstar Beaumont Join Designing Worlds today, Thursday 21st April at 12 noon SLT, for an unexpected extra show – not OF Designing Worlds but ABOUT Designing Worlds! Saffia and Elrik are appearing on Metanomics Community Forum to talk about the Designing Worlds show, how it has grown and developed – and to answer your questions about the show too!
A Perfect Jewel of a Community Forum for Designing Worlds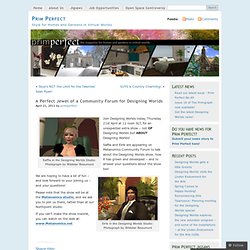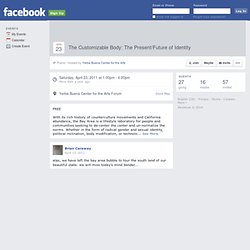 With its rich history of counterculture movements and California abundance, the Bay Area is a lifestyle laboratory for people and communities seeking to de-center the center and un-normalize the norms. Whether in the form of radical gender and sexual identity, political inclination, body modification, or technological utopianism, we are what the rest of the country fears and/or hopes to be. What's in the local water that attracts the Black Panthers, the weed-farming millionaires, the decompressing Bur...ners? Given the rapid succession of social and identity-based movements here, what does the future hold for new, even radical, expressions of self? The best way to frame this conversation is to weave together the influential voices—and avatars—of thought leaders working at the nexus of personal identity and cultural anthropology.
The Customizable Body: The Present/Future of Identity
The evolution of language: Babel or babble? | The Economist
THE American Economic Association has announced that Jonathan Levin, an economist at Stanford University, has one the prestigious John Bates Clark medal, which is given to the most promising economist under 40. Previous winners include Milton Friedman and Paul Krugman; last year's winner was Esther Duflo. Here's the AEA's introduction of Mr Levin: Jonathan Levin is a leading scholar in the fields of industrial organization and microeconomic theory, whose work stands out for its combination of theoretical depth, empirical methods, and compelling applications. He has conducted influential research on the economics of contracting, the organization and design of markets, subprime lending, and on empirical methods for studying imperfect competition. His research is methodologically broad, and often combines a sophisticated grasp of economic theory with careful empirical analysis.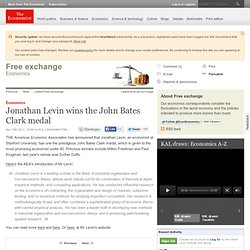 Economics: Jonathan Levin wins the John Bates Clark medal
The IEEE Daily
SLRoboWeek
Virtual National Robotics Week « Virtual IEEE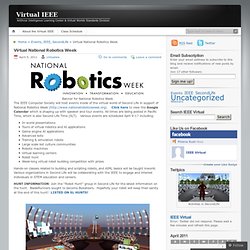 Home > Events, IEEE, SecondLife > Virtual National Robotics Week Banner for National Robotics Week The IEEE Computer Society will host events inside of the virtual world of Second Life in support of National Robotics Week (http://www.nationalroboticsweek.org). Click here to view the Google Calendar which is shaping up with speaker and tour events. All times are being posted in Pacific Time, which is also Second Life Time (SLT). Various events are scheduled April 9-17 including:
Archivist Llewellyn's Photostream
Join us for a special date and time as Metanomics broadcasts live from Gametech, the annual military conference on games and virtual worlds for training and simulation. Virtual worlds have become an important technology to support training and community outreach. But over the past several years, changes in the virtual world industry have opened up new choices while closing others. Advances like the consumer adoption of Microsoft Kinect, widening use of Unity 3D, and the coming changes to the browser with the launch of HTML-5 and WebGL are opening up a new range of options. Join Douglas Maxwell, Science and Technology Manager for Virtual World Strategic Applications at the U.S. Army Simulation & Training Technology Center (STTC) as he welcomes a panel to explore current and future trends in virtual worlds.
March 24th: LIVE from Gametech Orlando - The Future of Virtual Worlds |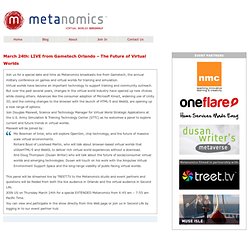 Amputee Virtual Environment Support Space-A vision for virtual military amputee support
Volume 47 Number 6, 2010 Pages vii — xi Physical rehabilitation alone is not sufficient for a full recovery. A full recovery from limb loss requires deep psychological and social support that includes patience, tenacity, and help from friends, family, and the community [4]. Peer support potentially can provide information and education not achieved in any other team relationship.
If only I had a Linden for every time a client asked for a meeting space or auditorium in their new sim… The grid is saturated with auditoriums, and these vast, elaborate and often prim-intensive spaces could almost always be put to better use. So when the 'cats' (founders of Startled Cat) originally described their need for a conversation space, I quietly took notes, listening carefully as they articulated their needs – waiting for a pause in the conversation to push back a little. But as they described the project in greater detail, I realized this one was different. This space would soon be hosting some of the deepest and potentially life-changing conversations on the grid, and the architecture of this space would need to play an integral role in organizing, nurturing and encouraging a variety of emotionally powerful experiences.
The Architecture of Healing: The Making of the Veteran-Civilian Dialogue Space in Second Life
MCF_03_10_11 on Metanomics Community Forum
Educators have a special energy in the summer. Perhaps it is the freedom from classes, grading and being so adult. Summer is a great time for learning, exploring and yes, professional development but why choose something dry and serious. How about camp? And why not, GameCamp! Project Lead Lisa Dawley, PH.D. has assembled an incredible team to guide campers at 3D GameLab's first ever, GameCamp in August of 2011.
February 28th: Cyborg to Borg—Cont'd,  with Michael Chorost |
Select words by thinking - world record
presents Michael Chorost March 14; all are welcome to attend!
Michael Chorost, author of Rebuilt: How Becoming Part Computer Made Me More Human, a memoir about receiving cochlear implants, will read passages and discuss his most recent book Word Wide Mind: The Coming Integration of Humanity, Machines, and the Internet. For an overview of the book, click here. Copies of the new book will be available for purchase and signing, and a discussion with audience members will follow his lecture. When: Monday, March 14, 201111:30 am Complimentary lunch served 12 - 1 pm Chorost lecture/reading (an ASL interpreter will be present during this portion) 1 - 2:30 pm Q&A / Discussion with audience members Please do not feel obligated to stay for the entire time but know that you are welcome to! Where:Bay 4, Room C105 The Smith Warehouse at Duke University114 S. Buchanan Blvd.
Metanomics: Feb.21 | Robert Bloomfield hosts Paul Ford, Writer and Web Native
I Am Gary Benchley by Paul Ford
February 7th: Daryl J. Bem, Social Psychologist Emeritus Joins Robert Bloomfield at 12pm (PT) |
Professor Emeritus from Cornell (and Metanomics Guest) Incites Scientific Community
February 10th: Event News
FeelingFuture - Powered by Google Docs
Exploring the serious uses of virtual worlds | Metanomics
Daden, Ltd Talks about their "Virtual World Finder" Tomorrow, May 20 in Second Life
Second Life
Google
Why Tyler Cowen's new book will be on Kindles, not bookstore shelves » Nieman Journalism Lab » Pushing to the Future of Journalism
Book Chat: A Conversation With Tyler Cowen
May « 2011 « Virtual Body Language
Designing Digitally, Inc. Wins 2011 Air Force Research Lab Virtual World Contract
How virtual worlds will converge
Continuing Medical Education in Second Life
11 Predictions for 2011 (and beyond)
Rod Humble: Here's how Second Life can rule the world
How Linden Lab could simplify promotion in Second Life
Business and Technology in Second Life » Perhaps I should blog a bit more here…
IDIA - Ball State University - projects
New story - storify.com