Funny Stuff
Sweet Brown's Cold Pop. Autodance:
BroMyGod. Worth the read (I did not write this, I found it on the net) Am I Wearing Pants?: Pics, Videos, Links, News. DEAR BLANK, PLEASE BLANK - Pìcame – Visual arts smugglers. Un progetto ironico e geniale di Jared Wunsch e Hans Johnson.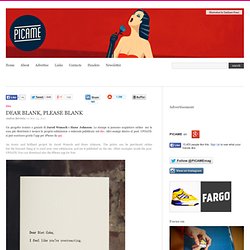 Le stampe si possono acquistare online ma la cosa più divertente è inviare le proprie submission e vedersele pubblicate sul sito. Altri esempi dentro al post. UPDATE: si può scaricare gratis l'app per iPhone da qui. An ironic and brilliant project by Jared Wunsch and Hans Johnson.
---