Humor
Free Ecards, Funny Ecards, Greeting Cards, Birthday Ecards, Birthday Cards, Valentine's Day Ecards, Flirting Ecards, Dating Ecards, Friendship Ecards, Wedding Ecards, Anniversary Ecards and more at someecards.com
Happy Place - The Latest Funny Videos, Funny Pictures, Funny Tweets, Funny Ecards and More!
Didga the cat, as in "you didn't happen to see a skateboarding cat go by, didga?" I'm sure we all feel a little jaded when it comes to animal videos on the Internet. I mean, this is 2014.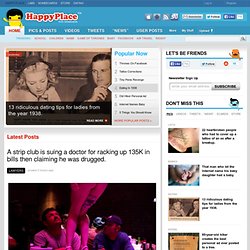 Just for Fun!
Natalie Dee: "America's Favorite Cracker"