Meditation
Self Hypnosis MP3 | Free Hypnosis Download. First, give yourself the proper setting.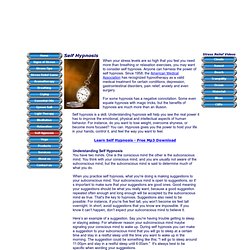 Find a quiet environment where you won't be disturbed and where you feel relaxed. Block out at least 10 to 30 minutes to focus on the process. It may also be more effective if you lay down in a comfortable position. If noise is an issue, use music or white noise to eliminate any distractions. Once you have mastered the skill of self hypnosis you will be able to do it almost anywhere. DAILY INSPIRATION on Spiritual Growth - StumbleUpon. Makes you think - The way you think about time has a big effect on your behavior - The Blogs at HowStuffWorks - StumbleUpon.
By Marshall Brain | June 23, 2010 This is a fascinating video that looks at the different ways that human beings perceive time and the effects that these perceptions have on our behavior: The video starts by identifying six ways to perceive time: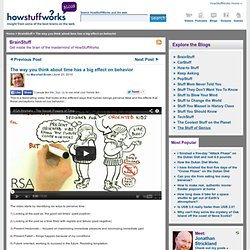 Learning Meditation Home Page - StumbleUpon. The Meditation Tip of the Day. Daily Wisdom - StumbleUpon.
---