Exercise
50 Bodyweight Exercises You Can Do Anywhere. Illustrations by Shannon Orcutt Who needs a gym when there's the living room floor?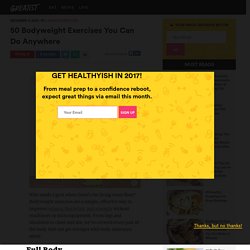 Bodyweight exercises are a simple, effective way to improve balance, flexibility, and strength without machinery or extra equipment.
Quick Workouts
Stretching. Yoga. Music. Cicuit Workouts. Types of Workouts. Bodyrock.tv workouts search | Fitness - StumbleUpon. Abs. Arms and Legs Workout. Full Body Workout. Dance. Lower Body Workout. Upper Body Workout. Personal Training Programs - Exercise database, muscles, equipment - bench... - StumbleUpon.
Cardio
---