THINKING
Welcome to the highest place on the planet! Twelve Things You Were Not Taught in School About Creative Thinking. Effortless personal-analytics | RescueTime. What do you do with my data?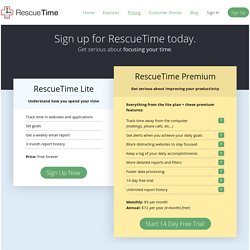 Your data belongs entirely to you. We do not sell or otherwise do anything with your data to put your privacy at risk. RescueTime Privacy. 10 Websites To Make You Think | The Online Learning Blog from Study2U. Supposedly browsing the internet requires more brain power than watching television.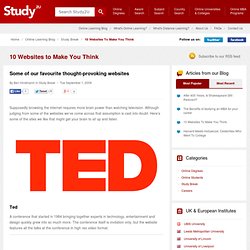 Although judging from some of the websites we've come across that assumption is cast into doubt. Here's some of the sites we like that might get your brain to sit up and listen. Ted A conference that started in 1984 bringing together experts in technology, entertainment and design quickly grew into so much more. The conference itself is invitation only, but the website features all the talks at the conference in high res video format. Idea Attack: The Merits of Multiplying Your Options. A fixation on our dwindling ability to focus has seized the zeitgeist of late.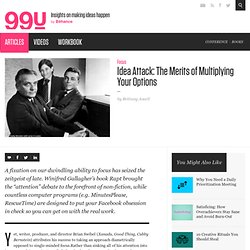 Winifred Gallagher's book Rapt brought the "attention" debate to the forefront of non-fiction, while countless computer programs (e.g. MinutesPlease, RescueTime) are designed to put your Facebook obsession in check so you can get on with the real work. Yet, writer, producer, and director Brian Swibel (Xanadu, Good Thing, Cubby Bernstein) attributes his success to taking an approach diametrically opposed to single-minded focus.Rather than sinking all of his attention into just one goal (or project), Swibel plays both ends – or maybe three, or four – against the middle. He says, "I started when I was 19, and I got some advice, which was 'develop a lot of stuff,' because you never know which one is going to hit first. I took that to heart, and really set out to have a multi-tiered production slate… I didn't just want to be locked into one." Critical thinking web.
10 Online Tools for Better Attention & Focus. A recent happiness study from Matthew Killingsworth and Daniel Gilbert found that the more our minds wander, the less happy we are.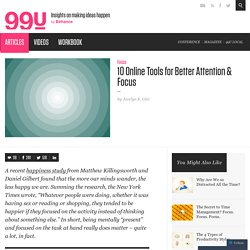 Summing the research, the New York Times wrote, "Whatever people were doing, whether it was having sex or reading or shopping, they tended to be happier if they focused on the activity instead of thinking about something else." In short, being mentally "present" and focused on the task at hand really does matter – quite a lot, in fact. If only finding focus were so simple. Projects - Whirlpool of Knowledge. Have you any comments about the articles on this page?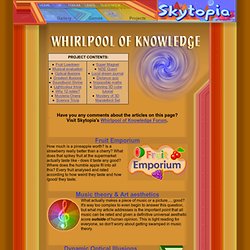 Visit Skytopia's Whirlpool of Knowledge Forum. How much is a pineapple worth? Best of 2011: Our Most Popular Tips, Interviews & Think Pieces. How can we manage our energy and attention for peak performance?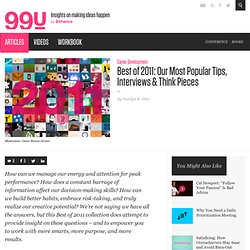 How does a constant barrage of information affect our decision-making skills? How can we build better habits, embrace risk-taking, and truly realize our creative potential? We're not saying we have all the answers, but this Best of 2011 collection does attempt to provide insight on these questions – and to empower you to work with more smarts, more purpose, and more results. 1. 25 Insights on Becoming a Better Writer We round up 25 nuggets of writing wisdom from Kurt Vonnegut, Margaret Atwood, Joyce Carol Oates, Augusten Burroughs, Geoff Dyer, Steven Pressfield, and more.
99U - powered by FeedBurner. DRUDGE REPORT 2012®
---