DESSERTS
LES MEILLEURES RECETTES DE TIRAMISU. Liens commerciaux Les autres recettes de tiramisu: 629 recettes à découvrir!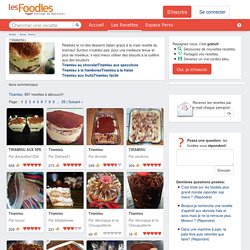 Page : 1 2 3 4 5 6 7 8 9 ... 20 | Suivant » Jam Jams. Twix Cheesecakes. Homemade versions of Girl Scout cookies. I admit it: We're Thin Mint addicts in our house.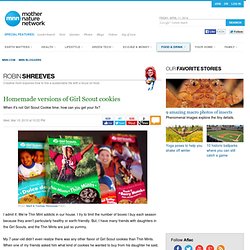 I try to limit the number of boxes I buy each season because they aren't particularly healthy or earth-friendly. But, I have many friends with daughters in the Girl Scouts, and the Thin Mints are just so yummy. Oreo and Peanut Butter Brownie Cakes. So, after being gone all last week, this has been catch up on the house week.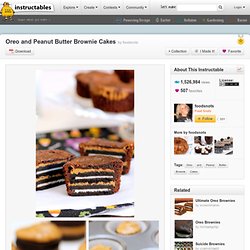 Mostly laundry actually. Man, who knew that a weeks worth of laundry from 5 people could be so daunting. Yikes!! Peter Reinhart's Artisan Breads Every Day. Product Description Peter Reinhart's Artisan Breads Every Day distills the renowned baking instructor' s professional techniques down to the basics, delivering artisan bread recipes that anyone with flour and a fridge can make and bake with ease.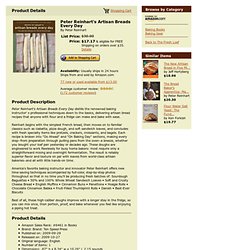 Reinhart begins with the simplest French bread, then moves on to familiar classics such as ciabatta, pizza dough, and soft sandwich loaves, and concludes with fresh specialty items like pretzels, crackers, croissants, and bagels. Each recipe is broken into "Do Ahead" and "On Baking Day" sections, making every step--from preparation through pulling pans from the oven–a breeze, whether you bought your loaf pan yesterday or decades ago.
These doughs are engineered to work flawlessly for busy home bakers: most require only a straightforward mixing and overnight fermentation. The result is reliably superior flavor and texture on par with loaves from world-class artisan bakeries–and all with little hands-on time. Spiced Sweet-Potato Cake with Brown Sugar Icing Recipe at Epicurious. Cake 4 8-ounce red-skinned sweet potatoes(yams) Icing 1 cup powdered sugar 3/4 cup (packed) dark brown sugar 1/2 cup whipping cream 1/4 cup (1/2 stick) unsalted butter 1/4 teaspoon vanilla extract Preparation For cake: Pierce sweet potatoes with fork.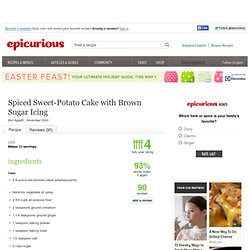 Microwave on high until very tender, about 8 minutes per side. S'more Cookie Bars. These were a huge hit!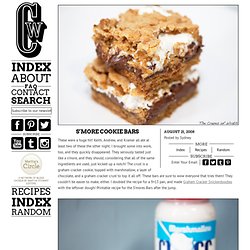 Keith, Andrew, and Kramer all ate at least two of these the other night. I brought some into work, too, and they quickly disappeared. They seriously tasted just like a s'more, and they should, considering that all of the same ingredients are used, just kicked up a notch! The crust is a graham cracker cookie, topped with marshmallow, a layer of chocolate, and a graham cracker crust to top it all off.
Sweet corn cupcakes with browned butter frosting « Breakroom Test Kitchen. August 15, 2010 at 9:54 pm My brother and I have our birthdays within a week of each other.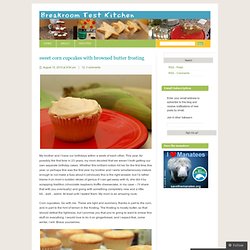 This year, for possibly the first time in 23 years, my mom decided that we weren't both getting our own separate birthday cakes. Whether this brilliant notion hit her for the first time this year, or perhaps this was the first year my brother and I were simultaneously mature enough to not make a fuss about it (obviously this is the right answer, but I'd rather blame it on mom's sudden stroke of genius if I can get away with it), she did it by scrapping tradition (chocolate raspberry truffle cheesecake, in my case – I'll share that with you eventually) and going with something completely new and a little bit…well…weird. At least until I tasted them. My mom is an amazing cook. Pear Clafoutis. I remember that my mom would make this on special occasions when I was little.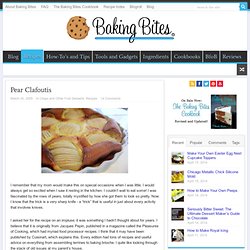 I would always get so excited when I saw it resting in the kitchen. I couldn't wait to eat some! I was fascinated by the rows of pears, totally mystified by how she got them to look so pretty. Now I know that the trick is a very sharp knife - a "trick" that is useful in just about every activity that involves knives. I asked her for the recipe on an impluse; it was something I hadn't thought about for years. Strawberry-Nutella Thumbprint Cookies. Update 05/31/2011 This recipe was featured on 100 ways to use Strawberries at Endless Simmer.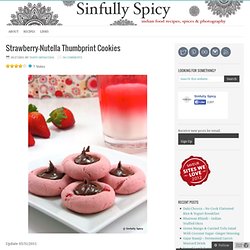 Update 05/14/2011 Another reader successfully tried this recipe.See here.The blog is in a non-english language so I could not read it but the picture says it all.Thank you LILLA! Update: 03/05/2011. In the name of browniebabe. There are many events in the food blog world that I truly enjoy.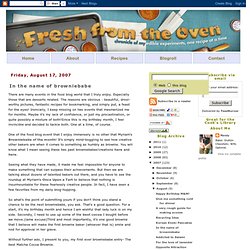 Especially those that are desserts related. The reasons are obvious : beautiful, drool-worthy pictures, fantastic recipes for bookmarking, and simply put, a feast for the eyes! Ironically, I keep missing on two events that mesmerized me for months. Maybe it's my lack of confidence, or just my procastination, or quite possibly a mixture of both! Since this is my birthday month, I feel invincible and decided to tackle both. Recipe Print 5 Minute Chocolate Mug Cake recipe.
---