Prototyping
Labs - Adobe Flash Catalyst. Development and sales ended on April 23, 2012 Sales of Adobe® Flash® Catalyst® software ended on April 23, 2012.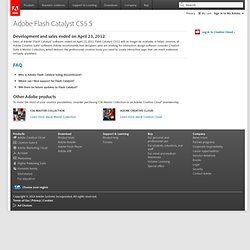 Flash Catalyst CS5.5 will no longer be available in future versions of Adobe Creative Suite® software. Adobe recommends that designers who are looking for interaction design software consider Creative Suite 6 Master Collection, which delivers the professional creative tools you need to create interactive apps that can reach audiences virtually anywhere. Adobe has decided to discontinue the production of Flash Catalyst in order to streamline the product line. Aza's Thoughts » Rapid Prototyping with Greasemonkey. I recently was admiring the slick keyboard interface for Dropular, a sort of communal blog for sharing interesting finds on the net.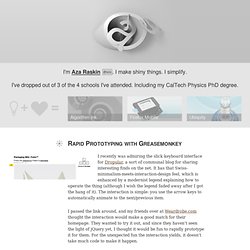 It has that Swiss-minimalism-meets-interaction-design feel, which is enhanced by a modernist legend explaining how to operate the thing (although I wish the legend faded away after I got the hang of it). The interaction is simple: you use the arrow keys to automatically animate to the next/previous item. Sketching in Code: the Magic of Prototyping. Over the last year, I've noticed more and more conversations about prototyping as a method of approaching web application development.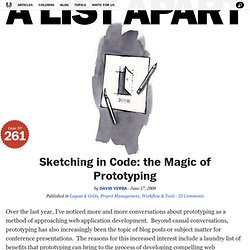 Beyond casual conversations, prototyping has also increasingly been the topic of blog posts or subject matter for conference presentations. The reasons for this increased interest include a laundry list of benefits that prototyping can bring to the process of developing compelling web applications. Ranging from increased collaboration to more effective solutions, these benefits have made prototyping a valuable new approach to consider for your next project. Wireframes: square peg, round hole#section1 One of the obvious developments in the web application world that has made prototyping approaches more attractive has been the rise of Ajax and rich internet applications (RIAs).
---