Application
Iphone. Facial Recognition Comes to Facebook - ReadWriteWeb. This morning, Face.com announced that they're bringing advanced facial recognition technology to Facebook by way of a new application called Photo Finder.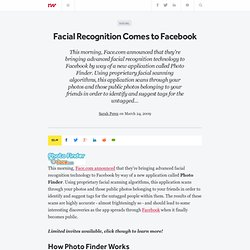 Using proprietary facial scanning algorithms, this application scans through your photos and those public photos belonging to your friends in order to identify and suggest tags for the untagged people within them. The results of these scans are highly accurate - almost frighteningly so - and should lead to some interesting discoveries as the app spreads through Facebook when it finally becomes public. Feikkititteli. Official launch of the Top 100 Australian Web 2.0 Applications l. The Top 100 Web 2.0 Applications list is now officially launched – the full list is below, after appearing this morning in a feature section in BRW magazine on Web 2.0.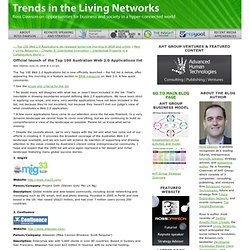 A few quick comments: * See the scope and criteria for the list. * No doubt many will disagree with what has or hasn't been included in the list. That's inevitable in drawing boundaries around defining Web 2.0 applications. We have been strict in applying our scope, and many very worthy applications have not been included in the list, not because they're not excellent, but because they haven't met our judge's view of what constitutes a Web 2.0 application.
---