Recording stuff
Free Dream Theater Guitar Backing Tracks. FREE Guitar Backing Tracks - Browse Downloads. 55 Great Websites To Download Free Sound Effects. Sound effects are used to emphasize artistic or other content of films, television shows, live performance, animation, video games, music, or other media.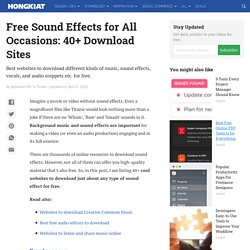 These trick of sound are mostly achieved by combining technology, ingenuity and creativity. Sound effects are important for digital media because an appropriate sound effect can easily resemble a real occurrence for a situation. Free guitar amp vst. Free audio plugin database. Plugins Listed: 2339 Welcome to the Gersic.com free audio plugin database, the largest online database of free audio plugins.
We list nearly 2000 free VST plugins, free DirectX plugins, RTAS, AU, and more from developers all over the world. There are tons of excellent audio plugins available for free on the Web. This database is an attempt to provide a useful index of them. New VST, DirectX, RTAS, and AU plugins are being added all the time, and you can submit your own favorite plugins using the "Submit Plugin" link above. VST Effects – Variety Of Sound. BaxterEQ – transparent mastering and mix buss shelving EQ What it does The BaxterEQ is an incredible smooth shelving EQ.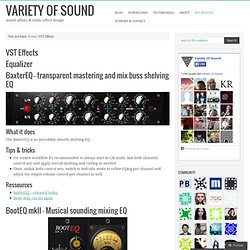 Tips & tricks For easiest workflow it's recommended to always start in L/R mode, link both channels control sets and apply overall shelving and cutting as needed.Then, unlink both control sets, switch to mid-side mode to refine EQing per channel and adjust the output volume control per channel as well. Ressources. VST Plugins free, virtual effects. Rough Rider is a modern compressor with a bit of "vintage" style bite and a uniquely warm sound.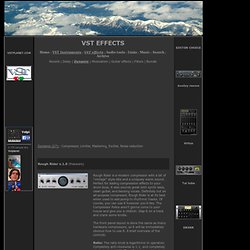 Perfect for adding compression effects to your drum buss, it also sounds great with synth bass, clean guitar, and backing vocals. Definitely not an all-purpose compressor, Rough Rider is at its best when used to add pump to rhythmic tracks.
---