Arab Film Festival Sydney 2011
Art Nation - Arab Film Festival - Video - ABC Arts
Arab Film Festival Australia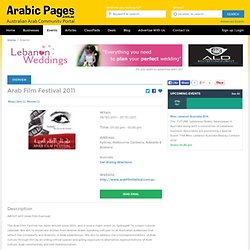 Description ABOUT AFF (Arab Film Festival) The Arab Film Festival has been around since 2001, and is now a major event on Sydney's screen cultural calendar. We aim to showcase stories from diverse Arabic speaking cultures to all Australian audiences that reflect the complexity and diversity of Arab experiences.
This is a propitious time to be running an Australian festival devoted to Arab cinema. Not only have two relatively new, well-funded festivals in the neighbouring emirates of Dubai and Abu Dhabi given a shot in the arm to the region's filmmakers, but the region is undergoing the kind of social and political turmoil that can only nourish dramatic storytelling. Its filmmakers are not just making calling card films to land themselves a gig in Hollywood, as so often occurs in the West, but have local stories they are burning to tell.
Arab Film Festival preview - SBS Films
Arab Film Festival 2010 on ABC NEWS on Vimeo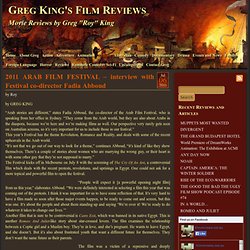 by GREG KING "Arab stories are different," states Fadia Abboud, the co-director of the Arab Film Festival, who is speaking from her office in Sydney. "They come from the Arab world, but they are also about Arabs in the diaspora, because we're here and we're making films as well. Our perspective very rarely gets seen on Australian screens, so it's very important for us to include those in our festival."
Greg King's Film Reviews » 2011 ARAB FILM FESTIVAL – interview with Festival co-director Fadia Abboud
Arab Film Fest AU (arabfilmfestau) on Twitter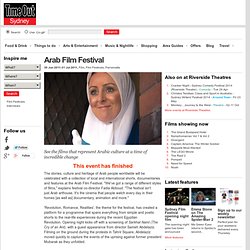 First published on . Updated on . The stories, culture and heritage of Arab people worldwide will be celebrated with a collection of local and international shorts, documentaries and features at the Arab Film Festival. "We've got a range of different styles of films," explains festival co-director Fadia Abboud.
Arab Film Festival - Riverside Theatres - Film
The Last Days Of Emma Blank A black comedy with overtones of the Theatre of the Absurd. When the members of a family, held to domestic servitude by their dying matriarch, discover there is no inheritance, they seek revenge on the bitter woman for all she has put them through. Winner of the Golden Calf for Best Screenplay at the 2009 Nederlands Film Festival.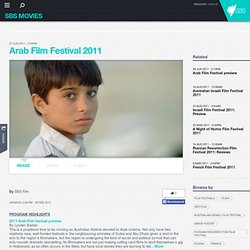 SBS Films - Arab Film Festival 2011
SBS Audio and Language : Arabic : Highlight: Arab-Film-Festival-Australia
Back to art projects Arab Film Festival Australia Project partner: Information and Cultural Exchange (ICE) in NSW Location: In 2011, the festival will be held in Sydney, Brisbane, Canberra, Melbourne and Adelaide Timeline: 2009 - 2011 http://arabfilmfestival.com.au/
Arab Film Festival Australia
Celebrating the filmmakers who don't give up
Son of Babylon is one of the films that will be showing at the Arab Film Festival. When he wanted to make his controversial film about present-day Cairo, the director Sameh Abdel Aziz needed to be creative about obtaining a film permit from censorious authorities. ''I had to call on favours from many, many friends in the film industry, directors and producers who gave me their permits to film [including] under the guise of shooting a commercial for a laundry detergent,'' he says.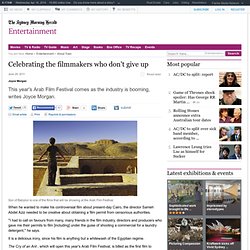 Arab Film Festival Australia
In addition to our offer of TIX to a preview of the French film THE PAST in MELBS on Tuesday, we now have some in-season DOUBLE PASSES for the rest of you! Email Kristy on media@ice.org.au if you're keen. THE PAST in cinemas February 6. C...ritically acclaimed, Cannes award winning French masterpiece by the Academy Award-winning director of A Separation. It is an engrossing psychological drama about choice and responsibility.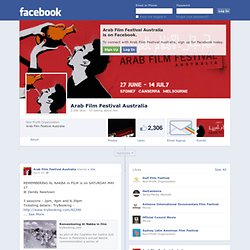 Arab films will continue pushing limits
Arab Film Festival – Australia
Arab Film Festival 2011 at Riverside Theatre - Film events - Concrete Playground Sydney
When: Thursday, 30 June - Sunday, 3 JulyWhere: Riverside Theatre , Cnr Church and Markets St Parramatta NSW 2150 How much: 18/12 or 69/99 Marathon pass It must be an exciting time to run an Arab film festival this year, while the Arab Spring cascades across the region. But nail-biting too, not knowing if this year's selection of films will still be relevant two months from now. The 2011 Arab Film Festival got lucky: opening the Festival this year is The Cry of an Ant.