Social Networking
Personalized Avatars in a Virtual World.
My Profiles
KnowEm Username Check - Secure your Brand or Online Identity on. 5 Social Aggregators To Keep You Updated. With all the social media sites available to us now, it's very easy to go into social media overload.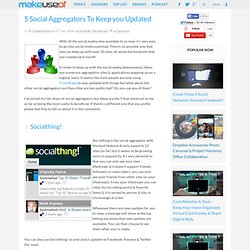 There's no possible way that one can keep up with even 10 sites, let alone the hundreds that are created each month. In order to keep up with the social media phenomenon, there are numerous aggregation sites & applications popping up on a regular basis. It seems like most people are now using FriendFeed to stay updated with things but what about the other social aggregators out there that are less publicized? Do you use any of them? I've joined my fair share of social aggregators but these are the 5 that stand out to me as far as being the most useful & beneficial. Top 10 Week | Top Social Aggregators [List]- Social Web Tools. The duties and responsibilities of a social media manager are several.
An honest social media manager should be able to juggle all types of job-related tasks and sport a non-traditional work ethic. Several work all day, some work all night and most, if not all, can have some form of social media activity happening each day and night. Companies are on a pursuit for somebody who may facilitate them get in the world of social media. Social media websites like Facebook, Twitter and YouTube are taking the planet to a totally different level.
---