jeiaren
Jacob
Get flash to fully experience Pearltrees
sci-fi-book-flow-chart.jpg (JPEG Image, 3800 × 2300 pixels)
SimpleViewer Gallery
The 50 SF Books You Must Read
11. Ringworld
Stellarium
Morgan and Ami E
vojto1_pub_eclipse.jpg (JPEG Image, 1604 × 1130 pixels) - Scaled (54%)
wardshelley_scifiSmaller.jpg (JPEG Image, 3400 × 1826 pixels)
seven-sisters-cliffs-near-seaford-town-east-sussex-england_1366x768_48719.jpg (JPEG Image, 1366 × 768 pixels) - Scaled (78%)
shuttle-atlantis-sts135-launch-pad-ingalls-1920.jpg (JPEG Image, 1280 × 800 pixels) - Scaled (75%)
The best job for
eclipse.JPG (JPEG Image, 520 × 511 pixels)
Beautiful storm photography
b_an-old-pine-on-a-coast.jpg (JPEG Image, 1920 × 1200 pixels) - Scaled (53%)
On March 19, the moon will swing around Earth more closely than it has in the past 18 years, lighting up the night sky from just 221,567 miles (356,577 kilometers) away. On top of that, it will be full. And one astrologer believes it could inflict massive damage on the planet.
Astrologer Richard Nolle says the March 19 Supermoon will cause major earthquakes or other disasters. Scientists are not expecting any major disasters from the supermoon. | Space.com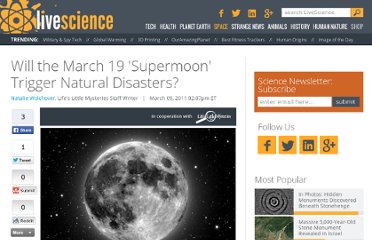 Solar System Scope
Wild Scenics Pictures
Rookie photographer snaps shooting star and the awe-inspiring glory of the Milky Way
By Emily Allen UPDATED: 01:15 GMT, 3 January 2012 These beautiful images look like they might have been taken from space using sophisticated equipment on board the Hubble Telescope.
First Sexy Sunday of the Year! Happy New Year to you, let's make this coming year Rad!
Sexy Sunday #21 « Not Suitable For Girls
115202195.jpg (JPEG Image, 1280 × 960 pixels) - Scaled (66%)
the most awesome story i ever heard Funny Pictures Add Funny
Isle Royale National Park - Large format photography - US National Parks Large Format stock photos
All sizes | sunrise over bagan
566065.jpg (JPEG Image, 900 × 599 pixels)
61612-F.jpg (JPEG Image, 950 × 640 pixels)