.Net Stuff
patterns & practices Developer Center May 2011 Microsoft Enterprise Library is a collection of application blocks designed to assist developers with common enterprise development challenges.
Enterprise Library 5.0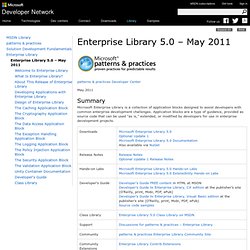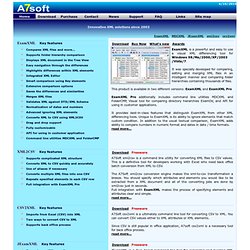 A7Soft provides tools to compare XML documents
ExamXML is a powerful and easy to use a visual XML differencing tool for Windows 98/Me/2000/XP/2003/Vista/7. It was specially developed for comparing, editing and merging XML files in an intelligent manner and comparing folder hierarchies containing thousands of files. This product is available in two different versions: ExamXML and ExamXML Pro ExamXML Pro additionally includes command line utilities MDCXML and FolderCMP, Visual tool for comparing directory hierarchies ExamDir, and API for using in customer applications. It provides best-in-class features that distinguish ExamXML from other XML differencing tools. Unique to ExamXML is its ability to ignore elements that match custom condition.
Version 4.1, December 2010 Geotechnical Software Services Copyright © 2010 This document is available at http://geosoft.no/development/unittesting.html [1] Unit test definition from Wikipedia: http://en.wikipedia.org/wiki/Unit_testing [2] A short description of white-box and black-box testing http://www.faqs.org/faqs/software-eng/testing-faq/section-13.html [3] Our favourite test framework for C++: CxxTest http://cxxtest.sourceforge.net/
Unit Testing Guidelines