.Net Stuff
patterns & practices Developer Center May 2011 Microsoft Enterprise Library is a collection of application blocks designed to assist developers with common enterprise development challenges.
Enterprise Library 5.0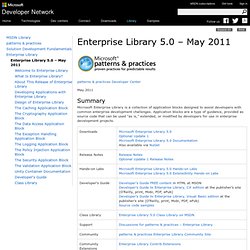 A7Soft provides tools to compare XML documents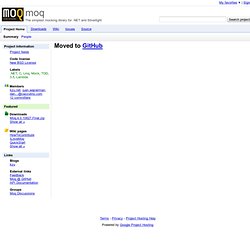 Update : Development of this project has moved to GitHub . New releases and bug fixes will be published there. var mock = new Mock < ILoveThisFramework >(); // WOW! No record/replay weirdness?! :) mock .
Version 4.1, December 2010 Geotechnical Software Services Copyright © 2010 This document is available at http://geosoft.no/development/unittesting.html [1] Unit test definition from Wikipedia: http://en.wikipedia.org/wiki/Unit_testing [2] A short description of white-box and black-box testing http://www.faqs.org/faqs/software-eng/testing-faq/section-13.html [3] Our favourite test framework for C++: CxxTest http://cxxtest.sourceforge.net/
Unit Testing Guidelines