Collectivity
La ética del software libre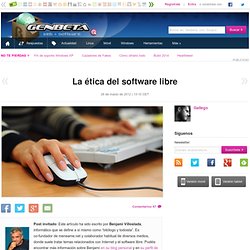 Post invitado : Este artículo ha sido escrito por Benjamí Villoslada , informático que se define a sí mismo como "bitólogo y todoista".
Curso de especializaciónn en Aprendizaje y trabajo colaborativo en red (Universitat Oberta de Catalunya)
The Collective Evolution HD PART 1/8 - Intro
The Collective Evolution II: The Human Experience | OFFICIAL RELEASE 2011
The evolution of the web | El Taller del Aprendiz
Conciencia Colectiva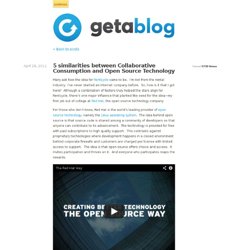 5 similarities between Collaborative Consumption and Open Source Technology - Thoughts for Rent
Many ask how the idea for Rentcycle came to be. I'm not from the rental industry.
To be clear, we do think intellectual property is important, and we're sure that relevant mind creations have to be recognized.
Knowledge is not mine, not yours. Only the arrangement is ours. | Ledface Blog
In this post we present our vision of collective intelligence. This isn't the "right" or the "wrong" definition—it's our point of view and how we're using it on Ledface. We want you to get involved with our project, so we need you to understand what we're working with.
Ledface – Our Vision of Collective Intelligence | Ledface Blog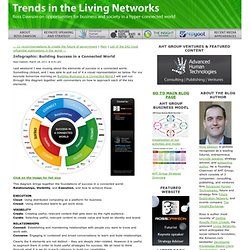 Infographic: Building Success in a Connected World
Last weekend I was musing about the elements of success in a connected world. Something clicked, and I was able to pull out of it a visual representation as below.
Siempre le presto atención a los estudios que realizan los expertos nucleados en el Institute for the Future (IFTF) . Se trata de una organización independiente sin fines de lucro que se dedica a investigar las tendencias y discontinuidades que construyen el futuro. Recientemente, investigadores del IFTF conjuntamente con catedráticos del University of Phoenix Research Institute realizaron un interesante estudio en el que indagan acerca de cuáles deberían ser las habilidades que se necesitarían tener en el futuro para desempeñarse en el mundo laboral.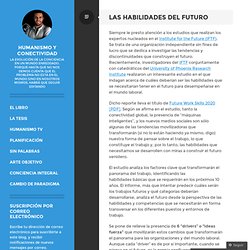 Las habilidades del futuro
TEDxSydney - Rachel Botsman - Collaborative Consumption Author Presents Compelling Case for 21C
Clay Shirky: How cognitive surplus will change the world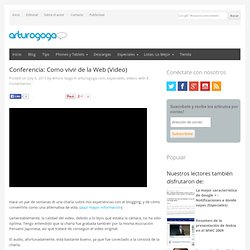 Conferencia: Como vivir de la Web (Video)
Hace un par de semanas di una charla sobre mis experiencias con el blogging, y de cómo convertirlo como una alternativa de vida. ( aquí mayor información )