Football finance
backBundesliga | 13.11.2013 20:08:42 FC Bayern were successful not only on the pitch last season Munich - Quadruple-winners and current Bundesliga leaders FC Bayern München are not only in good health on the pitch, they are also in astonishing financial shape too. At the club's Annual General Meeting in the Bavarian captial on Wednesday evening, chairman of the board Karl-Heinz Rummenigge announced a record 432.8 million Euro turnover for the 2012/13 business year. Jaw-dropping figures Post-tax profits stood at 14m Euro, bolstering the club's coffers to a hearty 135m Euro.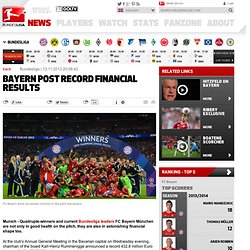 Record turnover for FC Bayern | FC Bayern München
Fulham have been sold by their owner, Mohamed Al Fayed, to the American businessman Shahid Khan. Photograph: Andy Rain/EPA Mohamed Al Fayed has brought his colourful 16-year association with Fulham to an end after sanctioning the sale of the Premier League club to the United States-based billionaire Shahid Khan. The deal was formally announced on Friday night and Fayed will give a photo call at Craven Cottage on Saturday afternoon, with the deal, which has been sanctioned by the Premier League, understood to be worth up to £200m. That would effectively match the amount loaned to the London club by the Egyptian businessman since he bought them as a third-tier side in 1997.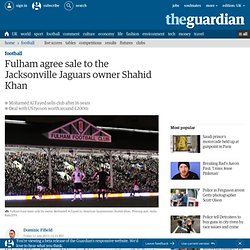 Fulham agree sale to the Jacksonville Jaguars owner Shahid Khan
Loïc Rémy poses with Harry Redknapp after signing for QPR in January. Photograph: Clive Rose/Getty Images
QPR accounts show wage bill doubled even before January's spending | Football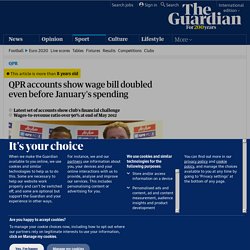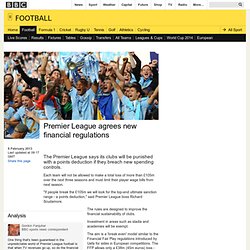 8 February 2013 Last updated at 09:17 GMT The Premier League says its clubs will be punished with a points deduction if they breach new spending controls.
BBC Sport - Premier League agrees new financial regulations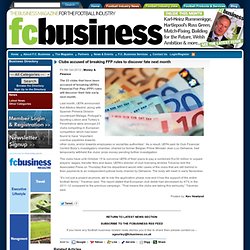 Fri 5th Oct 2012 | Money & Finance The 23 clubs that have been accused of breaking UEFA's Financial Fair Play (FFP) rules will discover their fate early next month.
Clubs accused of breaking FFP rules to discover fate next month : F.C. Business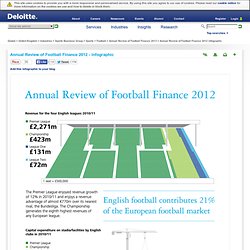 Football Finance - 2012 Annual Review infographic - Sport Finance | Deloitte UK
Add this infographic to your blog Share this infographic
10 July 2012 Last updated at 20:33 GMT The Al-Hasawi family have completed their takeover of Championship side Nottingham Forest. They agreed to take control of the two-time European Cup winners after reaching terms to buy the late Nigel Doughty's controlling stake.
BBC Sport - Nottingham Forest sold to Al-Hasawi family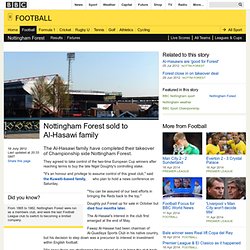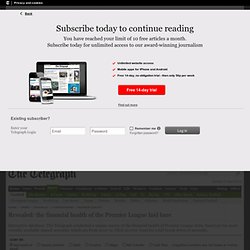 When all the elements have been added up, it gives sight of a club's operating cash flow, the cash left over from revenues after their day-to-day expenses have been paid. After interest bills have been paid, a club's disposable income available to spend on transfers, or paying down debts, is revealed.
Revealed: the financial health of the Premier League laid bare
Or then, when you think about it, perhaps not.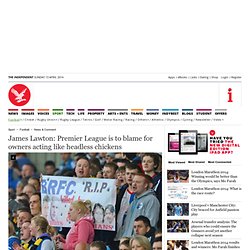 James Lawton: Premier League is to blame for owners acting like headless chickens - News & Comment - Football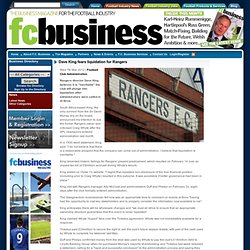 Dave King fears liquidation for Rangers
Wed 7th Mar 2012 | Football Club Administration
A young Portsmouth fan strikes a defiant note during a recent game at Fratton Park. Photograph: James Benwell/Action Images
Portsmouth back on brink as extent of club's mishandling is laid bare | David Conn | Football
Bolton announce increased revenues despite tough times : F.C. Business
Tue 1st Nov 2011 | Money & Finance Bolton Wanderers Chairman Phil Gartside says that the current tough economic times are reflected in the results of the Burnden Leisure annual report.
Mon 17th Oct 2011 | Money & Finance
Newcastle United's prudence to pay dividends
Mon 17th Oct 2011 | UEFA
Will UEFA bare its teeth over Financial Fair Play?
16 September 2011 Last updated at 06:50 ET Manchester United have many fans in Asia
Manchester United get approval for Singapore share sale
Supporters Direct's Premier League funding ends over Twitter taunts | Football | The Observer
Record income but record losses for Premier League | David Conn | Football
PR & COMMUNICATIONS OFFICER : F.C. Business
Everton FC turnover £79.1m in latest accounts.
Football Money League 2011 | Sports Business Group | Deloitte UK
Guest Post: Social Footballers Joining The Conversation | UK Sports Network - Digital Tech & Sport
RBS aims to block Hicks/Gillett action
Bates defends Leeds ticket price hike
Everton Launch New Blackberry App
Port Vale confirms investment talks
Liverpool has no guarantee that debt will not be loaded on to the club | Football
Top 10 Twitter Trends This Week [CHART]
Arsenal property deals send profits to record high
Premier League shirt deals at record level
Tom Hicks plans for return of his son to Liverpool
Liverpool Echo - Liverpool FC - News - Tom Hicks has talks to take control of Liverpool FC
Glazer's buy back 20% of Man Utd debt
Sullivan reveals £100m West Ham debt
Premier League teams continue to dominate Champions League prize money
Glazers hit by debt payment rise
Arsenal offer 'fanshares' to dampen fears of takeover | Football
Record-breaking revenues keep Madrid top of Deloitte Money Leagu
Investment firm makes "first genuine offer" to Liverpool
Hedge fund gives Liverpool owners deadline
Premier League to offer Football League £100m a year – report
Hull relegation would leave club with a £21 million black hole -
Promotion helps Stoke's turnover rocket
Manchester City agree £1 billion stadium development deal | Manc
Old Trafford ticket prices 'set to rise again': News from Footba
Revealed: truth about Glazers business empire beyond Manchester
Deloitte issue wage warning
Share Liverpool Football Club
Twitter: your links will soon belong to us
Bundesliga knocks Premier League off top spot