Football finance
SwissRamble : Similar story for PL... Liverpool announce annual loss of £50m in new club accounts. Liverpool made a £50m loss in the 2012-13 financial year, according to the club's annual accounts.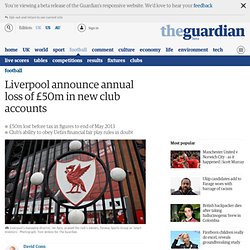 The figures, for the year to 31 May 2013, show that the club made an operating profit of £15m but were pushed into the heavy loss by the writing down of players' contracts, an accounting requirement, and a £13m loss on the sale of players. The £50m loss, which follows £41m reported for a ten-month period to 31 May 2011, appears to put Liverpool's total loss very much higher than the €45m (£37m) total permitted by Uefa for this two-year period under its financial fair play rules. The club, which stated that the figures show it is making "good progress" financially, did not comment on whether it is likely to be considered in breach of FFP when Uefa assesses clubs in the next two months. Football Money League - Football Finance. Welcome to the 17th edition of the Deloitte Football Money League, in which we profile the highest earning clubs in the world's most popular sport.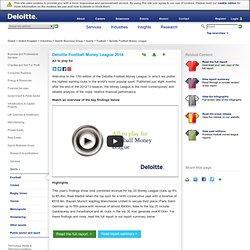 Published just eight months after the end of the 2012/13 season, the Money League is the most contemporary and reliable analysis of the clubs' relative financial performance. Watch an overview of the key findings below. Record turnover for FC Bayern | FC Bayern München. BackBundesliga | 13.11.2013 20:08:42 FC Bayern were successful not only on the pitch last season Munich - Quadruple-winners and current Bundesliga leaders FC Bayern München are not only in good health on the pitch, they are also in astonishing financial shape too.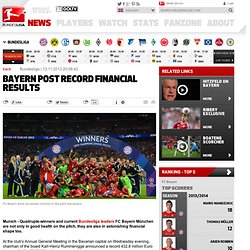 At the club's Annual General Meeting in the Bavarian captial on Wednesday evening, chairman of the board Karl-Heinz Rummenigge announced a record 432.8 million Euro turnover for the 2012/13 business year. Jaw-dropping figures Post-tax profits stood at 14m Euro, bolstering the club's coffers to a hearty 135m Euro. Fulham agree sale to the Jacksonville Jaguars owner Shahid Khan. Mohamed Al Fayed has brought his colourful 16-year association with Fulham to an end after sanctioning the sale of the Premier League club to the United States-based billionaire Shahid Khan.
The deal was formally announced on Friday night and Fayed will give a photo call at Craven Cottage on Saturday afternoon, with the deal, which has been sanctioned by the Premier League, understood to be worth up to £200m. That would effectively match the amount loaned to the London club by the Egyptian businessman since he bought them as a third-tier side in 1997. QPR accounts show wage bill doubled even before January's spending | Football. The scale of the challenge facing QPR if Harry Redknapp fails to keep them in the Premier League is laid bare in newly published financial results for last season, which show their wage bill doubled even before the latest spending spree.
The accounts, for the year ending 31 May 2012, show that the club's wage bill almost doubled from £27.6m to £58.5m in their first year back in the Premier League under Neil Warnock and Mark Hughes. Thanks to increased TV income, revenue rose sharply from £16.2m to £64m. But the initial splurge on players including Shaun Wright-Phillips and José Bosingwa – followed by Bobby Zamora and Djibril Cissé in January 2012 – meant that QPR's wages-to-revenue ratio stood at over 90% even before spending in the last two transfer windows is taken into account.
Premier League agrees new financial regulations. Clubs accused of breaking FFP rules to discover fate next month. Fri 5th Oct 2012 | Money & Finance The 23 clubs that have been accused of breaking UEFA's Financial Fair Play (FFP) rules will discover their fate early next month.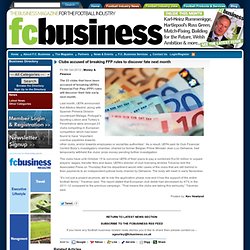 Last month, UEFA announced that Atletico Madrid, along with Spanish Primera Division counterpart Malaga, Portugal's Sporting Lisbon and Turkey's Fenerbahce were amongst 23 clubs competing in European competition which had been found to have "important overdue payables towards other clubs, and/or towards employees or social/tax authorities". As a result, UEFA said its Club Financial Control Body's investigatory chamber, chaired by former Belgian Prime Minister Jean-Luc Dehaene, had temporarily withheld the clubs' prize money pending further investigation.
The clubs have until October 15 to convince UEFA of their plans to pay a combined Eur30 million in unpaid players' wages, transfer fees and taxes. Football Finance - 2012 Annual Review infographic - Sport Finance. Add this infographic to your blog Share this infographic You can embed this infographic on your blog or website.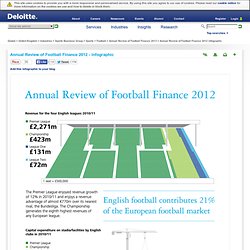 Simply copy the below code and paste it into your website. Annual Review of Football Finance 2012 The 21st edition of the Deloitte Annual Review of Football Finance was launched on 31 May 2012. Nottingham Forest sold to Al-Hasawi family. Revealed: the financial health of the Premier League laid bare. James Lawton: Premier League is to blame for owners acting like headless chickens - News & Comment - Football. Or then, when you think about it, perhaps not.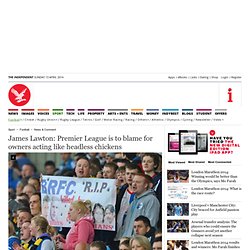 According to Scudamore, Platini's argument that Financial Fair Play regulations provide the light of impending football sanity would have been pummelled by first-hand evidence of the effects of Sheikh Mansour's £1bn-plus investment in champions-elect Manchester City. Apparently caught in a rush of corporate pride, he declared: "It would have been nice for Platini to have been there. It is a strong point to put to him: this is what you get when you welcome inward investment. " Dave King fears liquidation for Rangers. Wed 7th Mar 2012 | Football Club Administration Rangers director Dave King believes it is "inevitable" the club will plunge into liquidation after administrators were called in at Ibrox.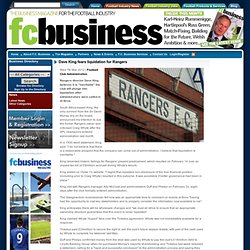 South Africa-based King, the only survivor from the Sir David Murray era on the board, announced his intention to sue the former Rangers owner and criticised Craig Whyte after the SPL champions entered administration last month. In a 1500-word statement, King said: "I do not believe that there is a reasonable prospect that the company can come out of administration. I believe that liquidation is inevitable. " Portsmouth back on brink as extent of club's mishandling is laid bare | David Conn | Football.
A young Portsmouth fan strikes a defiant note during a recent game at Fratton Park.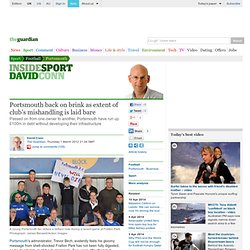 Photograph: James Benwell/Action Images Portsmouth's administrator, Trevor Birch, evidently feels his gloomy message from shell-shocked Fratton Park has not been fully digested, so he decided to spell it out, alarmingly. Two years after their last existence-threatening crisis, Pompey, formed in 1898, really could go bust this time. In administration for the second time in two years following the arrest for alleged bank fraud of their most recent owner, the Russian Vladimir Antonov, Portsmouth do not have enough money to see them through until the end of the season.
Bolton announce increased revenues despite tough times. Tue 1st Nov 2011 | Money & Finance Bolton Wanderers Chairman Phil Gartside says that the current tough economic times are reflected in the results of the Burnden Leisure annual report. Speaking to the club website, the Wanderers Chairman reflected on the continued support and investment of owner Eddie Davies and outlined the football club's plans for the future. He said: "I think that it is fair to say that everyone, and I include businesses in this as well, is finding it challenging economically, and we are not immune to that, whether it be now or in the future. "But within these conditions, as we report this year, we have seen our attendances rise by 5% and our turnover increase. "We have been following a consistent ticketing strategy over three seasons, which has seen us freeze prices, so the increase in crowds is really very pleasing. Newcastle United's prudence to pay dividends.
Mon 17th Oct 2011 | Money & Finance Newcastle United have revealed they are on course to break even over the coming months. Following the club's bright start to the new Premier League season, Newcastle's Managing Director, Derek Llambias has announced the club are on course to settle its debts. A mission statement released over the weekend read: Will UEFA bare its teeth over Financial Fair Play? Mon 17th Oct 2011 | UEFA Football Clubs hoping to compete in lucrative European competition should expect to navigate a labyrinth of caveats and exceptions to the governing body's Financial Fair Play Regulations, an expert will explain today. The rules, which come into force from 2013 have been designed to ensure clubs do not spend more than they earn, with the prospect of fines or the withdrawal of licences for those who fail to comply.
However, Dr Nicholas Braslavsky QC, barrister and head of Kings Chambers, will tell members at a meeting of the Kings Sport Network in Manchester today that a lack of clarity from UEFA on how strictly these sanctions will be imposed means clubs should peruse the rules carefully. "For the first time UEFA has tried to grasp the nettle where it believes expenditure is running massively out of control. Manchester United get approval for Singapore share sale. 16 September 2011Last updated at 11:50 Manchester United have many fans in Asia Manchester United have received approval to float the company on the Singapore Stock Exchange.
The club wants to raise $1bn (£635m) to pay off some of its debts by selling about 25% of the parent company's shares. United want to complete the process, which is known as an initial public offering (IPO), by the end of the year. They will spend the next few weeks speaking to investors ahead of a road show to market the offer. Supporters Direct's Premier League funding ends over Twitter taunts | Football | The Observer. AFC Wimbledon's Jon Main celebrates winning the Blue Square Premier play-off final. Supporters Direct and Dave Boyle have worked intensively to assist the club get into the Football League. Photograph: Carl Recine/Action Images. Record income but record losses for Premier League | David Conn | Football. PR & COMMUNICATIONS OFFICER. Everton FC turnover £79.1m in latest accounts.
Football Money League 2011 | Sports Business Group. Guest Post: Social Footballers Joining The Conversation | UK Sports Network - Digital Tech & Sport. RBS aims to block Hicks/Gillett action. Bates defends Leeds ticket price hike. Everton Launch New Blackberry App. Port Vale confirms investment talks. Liverpool has no guarantee that debt will not be loaded on to the club | Football. Top 10 Twitter Trends This Week [CHART] Arsenal property deals send profits to record high. Premier League shirt deals at record level. Liverpool Echo - Liverpool FC - News - Tom Hicks has talks to take control of Liverpool FC. Glazer's buy back 20% of Man Utd debt. Sullivan reveals £100m West Ham debt. Premier League teams continue to dominate Champions League prize money. Glazers hit by debt payment rise. Arsenal offer 'fanshares' to dampen fears of takeover | Football. Record-breaking revenues keep Madrid top of Deloitte Money Leagu.
Investment firm makes "first genuine offer" to Liverpool. Hedge fund gives Liverpool owners deadline. Premier League to offer Football League £100m a year – report. Hull relegation would leave club with a £21 million black hole - Promotion helps Stoke's turnover rocket. Manchester City agree £1 billion stadium development deal | Manc. Old Trafford ticket prices 'set to rise again': News from Footba. Revealed: truth about Glazers business empire beyond Manchester. Deloitte issue wage warning. Share Liverpool Football Club.
Twitter: your links will soon belong to us. Bundesliga knocks Premier League off top spot.
---