LOTRO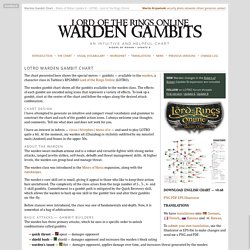 LOTRO Warden Gambit Chart The chart presented here shows the special moves — gambits — available to the warden , a character class in Turbine's RPGMMO Lord of the Rings Online (LOTRO). The warden gambit chart shows all the gambits available to the warden class. The effects of each gambit are encoded using icons that represent a variety of effects. To look up a gambit, start at the center of the chart and follow the edges along the desired attack combination. Chart Design
Warden Gambit Chart - LOTRO - Lord of the Rings Online
Lotro-Wiki.com
Cosmetic Lotro
Steeds of Middle Earth
Darzil's LoTRO Crafting Guide
Rate: ★ ★ ★ ★ ★ ( 2 votes ) Many winters have passed since Maney started to walk the path to wisdom, studying ancient parchments and seeking enlightenment. He never entitled himself as a scholar or lore-keeper, nor has he maintained deep friendships with the Istari as many acknowledged lore-masters did.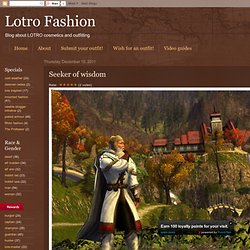 Seeker of wisdom
A Casual Stroll to Mordor
Gaming News / Network News Middle-earth Network is so excited about a new collaboration with Merric and Goldenstar of "A Casual Stroll to Mordor." You may already be familiar with them from their podcast that airs on Middle-earth Network Radio. Now, they will not only be hosting their blog on MyMiddle-earth, but will be joining the management team.
A Casual Stroll to Mordor Partners with Middle-earth Network | Middle-earth Network News
LoTROInterface