LOTRO
©2011 mmorsel / Gerbil Power Company | Terms of Service | Privacy Notice | Advertise THE LORD OF THE RINGS ONLINE™ interactive video game © 2010 Turbine, Inc. and patents pending. All rights reserved. Middle-earth Poster Map © 2007 The Saul Zaentz Company, d/b/a Middle-earth Enterprises f/k/a Tolkien Enterprises (SZC), under license to Turbine, Inc.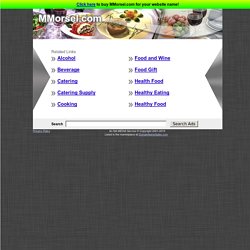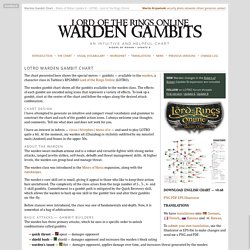 LOTRO Warden Gambit Chart The chart presented here shows the special moves — gambits — available to the warden, a character class in Turbine's RPGMMO Lord of the Rings Online (LOTRO). The warden gambit chart shows all the gambits available to the warden class. The effects of each gambit are encoded using icons that represent a variety of effects. To look up a gambit, start at the center of the chart and follow the edges along the desired attack combination. Chart Design
Warden Gambit Chart - LOTRO - Lord of the Rings Online
Lotro-Wiki.com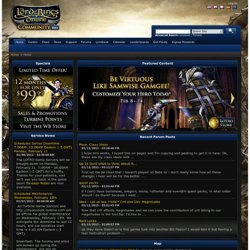 <div id="noscript_error" class="ui-widget error-msg"><div class="ui-state-error ui-corner-all"><p><span class="ui-icon ui-icon-alert" style="float: left; margin-right: .3em;"></span><strong>Error:</strong>&nbsp;You currently have Javascript disabled. This website uses Javascript for many elements such as the menus and page customization. Please enable Javascript in your browser for the optimum website experience. </p></div></div> THE LORD OF THE RINGS ONLINE ™ interactive video game © 2011 Warner Bros. Entertainment Inc and patents pending.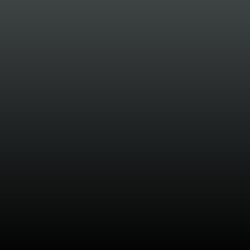 Cosmetic Lotro
It seems that many of my fellow Lotro bloggers and players are currently in a state of Lotro fatigue, and have put the game on hold, or their blogs on hold. Even the forums have been relatively quiet lately. Much of what used to be a bustling community seems to have come to a pause, as if everyone is holding their breath and waiting for what is to come. My own gaming activities have slowed somewhat, but only slightly. I […]
We are not just fans, we are residents! This fantastic video courtesy of our own Littlekender and Sparowen. Online Since Spring 2009
Steeds of Middle Earth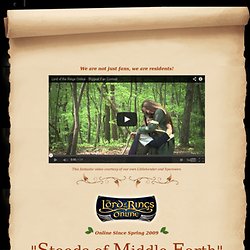 Darzil's LoTRO Crafting Guide
Rate: ★★★★★ (2 votes) Many winters have passed since Maney started to walk the path to wisdom, studying ancient parchments and seeking enlightenment. He never entitled himself as a scholar or lore-keeper, nor has he maintained deep friendships with the Istari as many acknowledged lore-masters did.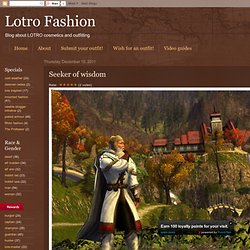 Seeker of wisdom
A Casual Stroll to Mordor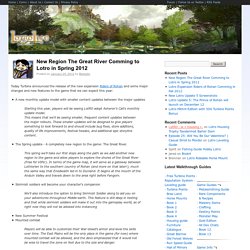 Today Turbine announced the release of the new expansion Riders of Rohan and some major changes and new features to the game that we can expect this year: A new monthly update model with smaller content updates between the major updates Starting this year, players will be seeing LotRO adopt Asheron's Call's monthly update model.This means that we'll be seeing smaller, frequent content updates between the major rollouts. These smaller updates will be designed to give players something to look forward to and should include bug fixes, store additions, quality of life improvements, festival tweaks, and additional epic storyline content. The Spring update - A completely new region to the game: The Great River. This spring we'll take our first steps along the path as we add another new region to the game and allow players to explore the shores of the Great River (Free for VIPs!).
LoTROInterface