T : #MusicBand
Tricky. The Aerial. The Hives. Tristan's projeqt \ The Ting Tings. The Coathangers New Album Out April 7, 2009. Suck My Shirt is the The Coathangers' fourth full-length.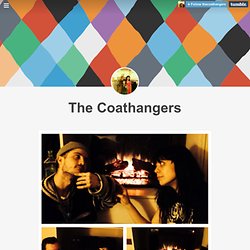 The title refers to an incident involving the salvaging of spilled tequila during the recording session for the album. While the title implies that little has changed with regards to the band's celebratory mission statement, even just a cursory listen of their latest album demonstrates that there have indeed been changes in The Coathangers' camp. First off, the quartet was reduced to a trio for the latest record, with keyboardist Bebe Coathanger (Candice Jones) stepping down from her duties. But the absence of keyboards isn't nearly as noticeable of a difference as the band's refined songwriting approach.
tUnE-YarDs - w h o k i l l. TUNE-YARDS MySpace. tUnE-yArDs - 'Bizness' Total Babes. This Many Boyfriends. Tori Amos. Tori Amos MySpace. Tori Amos - Smells like teen spirit (HQ) Theoretical Girl.
---