RADIOS
Radio 1190
15 Jan, 2014 It's Wintery cold here in Colorado, but don't let that stop you from dreaming about some sweet Summer days.. Enter: Hangout Festival. The Hangout is a one-of-a-kind music festival that takes place on the beautiful beaches of Gulf Shores, AL. Come hang out with 35,000 of your closest friends for an incredible party featuring over 70 bands. Soak up the sun and dance in the sand, this is the Hangout!
FERAROCK - Fédération des Radios Associatives Rock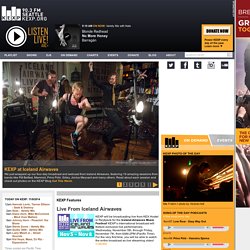 KEXP Features 14th Annual Expansions MLK Unity Party On Sunday, January 19th, join KEXP's Expansions crew, DJ Riz, Masa and Kid Hops for the 14th Annual Expansions Martin Luther King Unity Party at Columbia City Theater. 21+ Tickets on sale now. \\\ MORE Little show.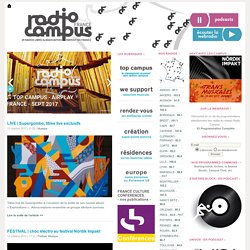 Neneh Cherry « Blank Project » WE SUPPORT – Une génération est passée depuis « Man », le dernier album solo de la musicienne et rappeuse Neneh Cherry, qui médusait le monde en 1996 avec son hit entêtant 7 Seconds… Lire la suite de l'article >> Longueur d'Ondes du 11 au 16 février à Brest
Radio Campus réseau (IASTAR)
Comfm lance ses applications Mobiles: retrouvez vos radios quand vous voulez ou vous voulez! Cette rubrique, réservée habituellement à la découverte d'une radio, nous nous l'approprions aujourd'hui. Privilège de la rédaction ! En effet, l'appli Comfm Radios vient de sortir ce 3 mai sur AppStore et GooglePlay et nous souhaitons partager ce moment avec vous. L'application "Comfm Radios" vous permettra en effet de retrouver tout l'univers des radios, que ce soit flux Live ou Podcast, ainsi que notre contenu éditorial exclusif, le tout dans une ergonomie adaptée aux mobiles.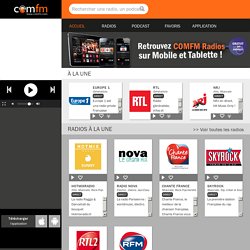 Brazil - ScreenTest de la Semaine du 9 avril 2014 Brazil - ScreenTest de la Semaine du 2 avril 2014 Brazil - ScreenTest de la Semaine du 26 mars 2014 Brazil - ScreenTest de la Semaine du 16 mars 2014 Brazil - ScreenTest de la Semaine du 9 mars 2014 Brazil - ScreenTest de la Semaine du 2 mars 2014 Brazil - ScreenTest de la Semaine du 23 février 2014 Brazil - ScreenTest de la Semaine du 16 février 2014 Brazil - ScreenTest de la Semaine du 9 février 2014 Brazil - ScreenTest de la Semaine du 2 février 2014 Brazil - ScreenTest de la Semaine du 19 janvier 20014 Brazil - ScreenTest de la Semaine du 26 janvier 2014