PHOTOS GALERIES
Accueil | Le site Officiel de Art TF
Vulù, artiste autodidacte. Il s'est intéressé à la photographie numérique en 2007 mais avec l'œil d'un peintre. Il ne capture pas l'instant, il le crée.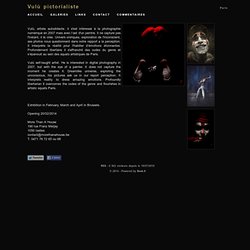 Vulù photographiste - Paris
Galerie de Vue sur lac (Louise Dumont)
:: paco peregrín ::
Francois Berthier | Photographer
projects | frieke
Where is my sin ?
More Photos of Daria Werbowy in Balenciaga's Spring Ads On the Vine--Following up a preview last week, Balenciaga has released even more images from its spring-summer 2014 campaign featuring Daria... Tao Okamoto Wears Calvin Klein for Prestige Singapore by Wee Khim Tao in CK--Japanese model Tao Okamoto graces the January cover of Prestige Singapore, posing in a fringe-embellished dress. Photographed by Wee...
Fashion Gone Rogue : The Latest in Fashion Photography and Models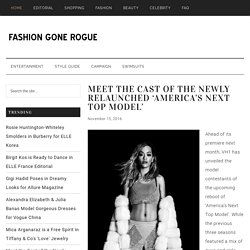 おまいらの気に入ったデザインの画像ください あんか~びっぷ
golem13 |
Le mashup réussi de Titanic et des Bronzés Allez, on termine la journée en sourires avec ce mashup de TITANIC et Les Bronzés. Un travail assez précis dans les images et les situations et la synchro est assez déconcertante. « Not available on the App Store » Les stickers des bonheurs simples Parce que les joies les plus simples ne sont pas que virtuelles et/ou payants, le projet photographique Not available on the App Store nous le rappelle et met en scène ces bonheurs simples avec des stickers Apple Store détournés.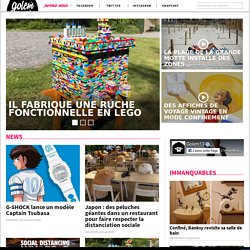 Фото и рисунки, арт и креативная реклама
Popwhore 2012 |
GigPosters.com - gig posters, flyers and handbills from around the world!
Behance Network :: Gallery
Veerle's blog 3.0 - Webdesign - XHTML CSS | Graphic Design
WORLD MOBILE CONGRESS 08 - VJ/DJ set at Sony Ericsson party - Opium, Barcelona. Creation of archive and modern samples with a telecommunication theme. Graphics and bootleg music video mix. FIAT500 – LONDON LAUNCH - VJ/DJ set at the Fiat500 London Eye Launch alongside live acts Mika and The Feeling.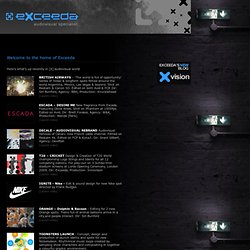 Exceeda - audiovisual specialist
druck licht raum
Musikvideo Efdemin, There Will Be SingingDial-Rec20105-10 min Lenny Kravitz, Breathe RemixAbsolut Vodka20063-5 min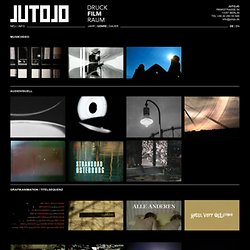 giraffentoast
onedotzero
D-FUSE
Addictive TV
Every reform movement has a lunatic fringe Joshua Davis Studios New York 234 Jefferson Ave Mineola, New York 11501 studio @ joshuadavis.com tel : 1.516.417.3111 New Business Sub Rosa / Media Arts Director 353 West 12th Street New York, New York 10014 tel : 1.212.414.8605 Web Hosting by Media Temple Workshops / Lectures SkillShare Programming Graphics II Generative Art Animation This class is a continuation of my first class, Introduction to Generative Art, which explores animation using processing and the HYPE framework http://skl.sh/1aIJSWM Programming Graphics I Introduction to Generative Art generating static print with processing, SVG and the HYPE framework http://skl.sh/1l5cT6n
Joshua Davis Studios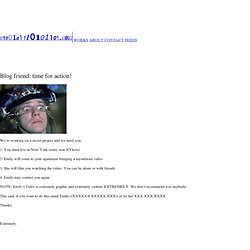 We're working on a secret project and we need you. 1: You must live in New York (sorry non-NYkers) 2: Emily will come to your apartment bringing a mysterious video
Blog >
One Photo a Day | 2012-01-21 | Carmine Groe - Dispute
Webstagram - Instagram Web Viewer ‐ formerly known as Webstagram You can View photos of the people you follow Like and Comment on photos Follow and Unfollow other users See your followers and following Browse popular photos/tags/users Get your RSS feeds AND MANY OTHER STUNNING FEATURES...!
Photo Sharing. Your Photos Look Better Here.
From the Hip Photo | Denver based artistic, candid photography for engagement, wedding and portrait shootsFrom the Hip Photo |
The Things That Excite Me
Anthropomorphe
Humedad Relativa
Christina Paik
Paranoias - Visual and Media contents to stimulate your brains.
World Press Photo
Floriane de Lassée
Bao Nguyen Photography
Are all of you having a great weekend so far? I certainly hope you have some great plans for this lovely Saturday. I'm actually only going to be online long enough just to supply you all with a brand new optical illusion and then I am going to go outside and enjoy the weekend. I have a lot of things I have to get done today.
Mighty Optical Illusions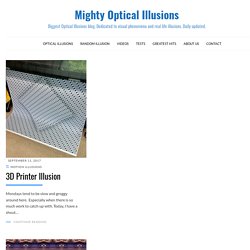 Keys Jacket March 14th, 2014 I'm fascinated by this jacket. Can't explain why. I just am.
today and tomorrow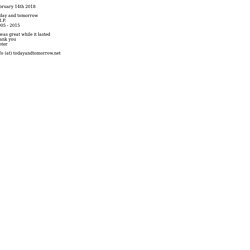 Hayashi Natsumi (よわよわカメラウーマン日記) *****
Is that Miss Bettie Page riding in a space-age concept car produced by Ford in 1954? A car which 60 years ago was designed to do what the hands-free Google car is attempting today? Of COURSE it is, as it now appears the model was having an affair with the married designer sitting next to her. This used to be a big controversy in the little Bettie Page underground.
Vernacular Photography Blogs
Smoothlogie
ZAC FASHION
Nicole Kidman photographed by Mario Testino for V Magazine #79 Continue reading → Sabine photographed by Wee Khim for L'Officiel Singapore September 2012 Continue reading → Charlotte Tomaszewska photographed by Nikolay Biryukov for Elle Ukraine October 2012 Continue reading →
PHOTODONUTS DAILY INSPIRATION PHOTOGRAPHY
Flash glam trash! Your guide to gutter culture
Your guide to gutter cultureServing the fine perverts since 2008 Copyright © Slava Mogutin more by Nibble star wars tiger link http://slavamogutin.com/
Mikael Jansson
iGNANT
Ian McDonnell Photography
ChômeurDeCharme » «À chaque chaussure son allure, à chaque allure une différente vision du monde» Nanni Moretti
Ts dating New Bern Posted by Jolene on 9/26/2012 Horny sex blind dating, cheating woman horny chicks, online single dating. Time in your hands. Looking for any late night blowjob. [...]
Annie Sprinkle.org(asm)
The Lost Blog Network
Edelman Home Page
Joël-Peter Witkin
Vintage Venus - Vintage Risque Prints.
Photo Art
Abduzeedo | Graphic Design Inspiration and Photoshop Tutorials
Pauline Darley | Blog photographique
#OSEF
|: de visu :| *****
LaChapelle Studio *****