PHOTOS GALERIES
Accueil | Le site Officiel de Art TF
Vulù photographiste - Paris
Galerie de Vue sur lac (Louise Dumont)
:: paco peregrín ::
Francois Berthier | Photographer
projects | frieke
Where is my sin ?
Visualizing large graphs: graph drawing of matrices in the University of Florida Collection
Fashion Gone Rogue : The Latest in Fashion Photography and Models
おまいらの気に入ったデザインの画像ください あんか~びっぷ
golem13 |
Фото и рисунки, арт и креативная реклама
Popwhore 2012 |
GigPosters.com - gig posters, flyers and handbills from around the world!
Behance Network :: Gallery
Veerle's blog 3.0 - Webdesign - XHTML CSS | Graphic Design
WORLD MOBILE CONGRESS 08 - VJ/DJ set at Sony Ericsson party - Opium, Barcelona. Creation of archive and modern samples with a telecommunication theme. Graphics and bootleg music video mix. FIAT500 – LONDON LAUNCH - VJ/DJ set at the Fiat500 London Eye Launch alongside live acts Mika and The Feeling.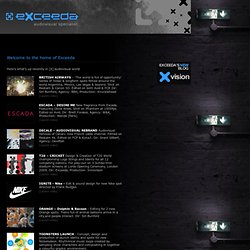 Exceeda - audiovisual specialist
druck licht raum
Musikvideo Efdemin, There Will Be SingingDial-Rec20105-10 min Lenny Kravitz, Breathe RemixAbsolut Vodka20063-5 min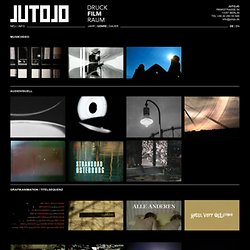 giraffentoast
onedotzero
D-FUSE
Addictive TV
Every reform movement has a lunatic fringe
Joshua Davis Studios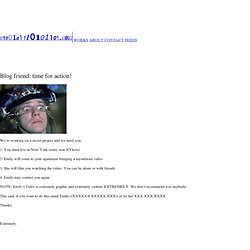 We're working on a secret project and we need you. 1: You must live in New York (sorry non-NYkers) 2: Emily will come to your apartment bringing a mysterious video
Blog >
One Photo a Day | 2012-01-21 | Carmine Groe - Dispute
Webstagram - Instagram Web Viewer
Photo Sharing. Your Photos Look Better Here.
From the Hip Photo | Denver based artistic, candid photography for engagement, wedding and portrait shootsFrom the Hip Photo |
The Things That Excite Me
Anthropomorphe
Humedad Relativa
Christina Paik
Paranoias - Visual and Media contents to stimulate your brains.
World Press Photo
Floriane de Lassée
Bao Nguyen Photography
Mighty Optical Illusions
today and tomorrow
Hayashi Natsumi (よわよわカメラウーマン日記) *****
Vernacular Photography Blogs
Smoothlogie
ZAC FASHION
PHOTODONUTS DAILY INSPIRATION PHOTOGRAPHY
Flash glam trash! Your guide to gutter culture
Mikael Jansson
iGNANT
Ian McDonnell Photography
ChômeurDeCharme » «À chaque chaussure son allure, à chaque allure une différente vision du monde» Nanni Moretti
Annie Sprinkle.org(asm)
The Lost Blog Network
Edelman Home Page
Joël-Peter Witkin
Vintage Venus - Vintage Risque Prints.
Photo Art
Abduzeedo | Graphic Design Inspiration and Photoshop Tutorials
Le 11 janvier 2014 | Actualité, Backstages, Parutions | 0 Commentaires Une très bonne année à vous tous, tous mes voeux de réussite et de bonheur ! Comme tous les ans, la période entre mi décembre et mi janvier est calme, et cette année je peux dire que ça a été tant mieux !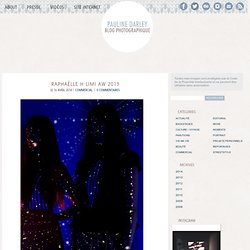 Pauline Darley | Blog photographique
#OSEF
|: de visu :| *****
LaChapelle Studio *****