COCOVAN
COCOVAN! These are the photos from a shoot I did about a month ago with the artist Cocovan.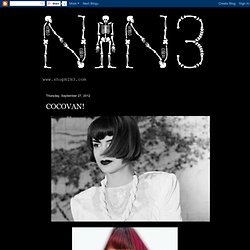 Check out her music, she's from pretty awesome & I caught her for the photos just before she had to leave back to Paris. Been thinking a lot about my purpose and it definitely is helping to steer the direction of NIN3. Cocovan. X My first EP "Data Image" is now available on iTunes + Spotify + Deezer x chateau marmont // bungalow 83 Pool parties and Guitars and Christmas Lights unicornology :
COCOVAN Facebook. The DJ got us fallin in love [Usher cover] feat. Cocovan. Dynamite [Taio Cruz cover] feat Cocovan. Raise Your Glass [Pink cover] feat. Cocovan. Cocovan - Dramas And Dreams (acoustic) COCOVAN My Space.