Data Visualization
Get flash to fully experience Pearltrees
WebProtégé WebProtégé is an open source, lightweight, web-based ontology editor. WebProtégé provides a friendly and highly configurable user interface that can be adapted for the use of domain experts.
In mathematics and computer science , graph theory is the study of graphs , which are mathematical structures used to model pairwise relations between objects from a certain collection. A "graph" in this context is a collection of " vertices " or "nodes" and a collection of edges that connect pairs of vertices. A graph may be undirected , meaning that there is no distinction between the two vertices associated with each edge, or its edges may be directed from one vertex to another; see graph (mathematics) for more detailed definitions and for other variations in the types of graph that are commonly considered.
Pellet supports a wide range of standard and novel features: Standard Reasoning Services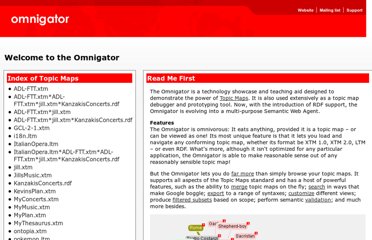 The Omnigator is a technology showcase and teaching aid designed to demonstrate the power of Topic Maps .