Time management
by Tony Schwartz | 8:53 AM March 14, 2012 Why is it that between 25% and 50% of people report feeling overwhelmed or burned out at work ? It's not just the number of hours we're working, but also the fact that we spend too many continuous hours juggling too many things at the same time. What we've lost, above all, are stopping points, finish lines and boundaries. Technology has blurred them beyond recognition. Wherever we go, our work follows us, on our digital devices, ever insistent and intrusive.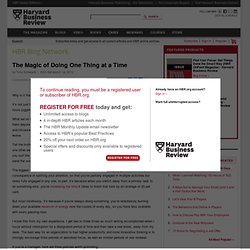 "Before enlightenment; chop wood, carry water. After enlightenment; chop wood, carry water." —Zen proverb In the chaos of the modern world, there is a beauty in simply doing. We're buffeted wildly by whatever emails, conversations, news, events, demands, that are going on around us. Our minds become a constant deluge of thoughts dwelling in the past, worries of the future, distractions pulling us in every direction.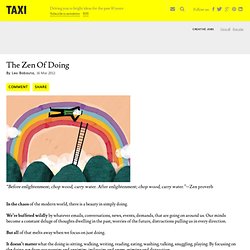 The Zen Of Doing
What Happened to Downtime? The Extinction of Deep Thinking and Sacred Space
7 Simple Steps to Extreme Personal Productivity | BNET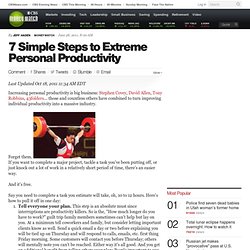 Increasing personal productivity is big business: Stephen Covey , David Allen , Tony Robbins , 43folders ... those and countless others have combined to turn improving individual productivity into a massive industry. Forget them. If you want to complete a major project, tackle a task you've been putting off, or just knock out a lot of work in a relatively short period of time, there's an easier way. And it's free.
Everyone seems to be busy these days. And so, we're all looking for some life hack that will free up time and make our lives run like well-oiled machines. In the year since my book, 168 Hours ( out in paperback today ), was published, I've been asked for my fair share of these tips. Should I run my errands in a certain order? Should I file emails a certain way?
The Biggest Time Saving Tip Of All | BNET